Confession: I love paper and pencil. There is nothing better than a freshly sharpened pencil and a crisp white sheet of paper. For years, this has been my choice in planning methods. While not perfect, it worked. However, with seven of my nine children actively engaged in the pursuit of education, I was struggling to plan effectively and not misplace it or have a child use it for a doodle pad. When Homeschool Buyers Co-op presented their online planner, Homeschool Planet, for review I decided that it couldn't hurt to give it a try. I had to admit that my current method was failing me.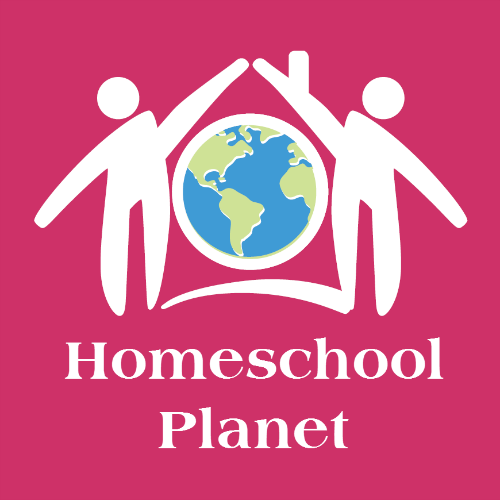 Second Confession: I signed up for the free trial while I waited for the official review period to begin. And that quickly, I realized that Homeschool Planet was going to succeed where so many other online planners has failed me.
Homeschool Planet – An Overview
Homeschool Buyer's Co-op provides the opportunity for homeschoolers to purchase resources as  a group and enjoy great savings. I love that they are family owned and operated. But they offer more than just purchasing power. Their newest resource is Homeschool Planet. This is an online planner for homeschoolers designed to help you organize school and life.  Full of helpful features and user friendly, Homeschool Planet is my new best friend.
Homeschool Planet can be purchased yearly ($65) or month-to-month ($6.95/month). A 30 Day Free Trial is available.

Why Homeschool Planet Works For Me
Easy to Use – Over the years I have attempted to use various online planners. Most have quickly sent me in search of a brick wall to beat my head against. Homeschool Planet was like a breath of fresh planning air. I was amazed at how simple it was to set up and begin using. Yes, it took a bit of time. I have seven children to plan for so any method is going to be bit time consuming. There is a How To and Tutorial section to help you out but honestly, I did not need them! This planner is really intuitive and simple to implement.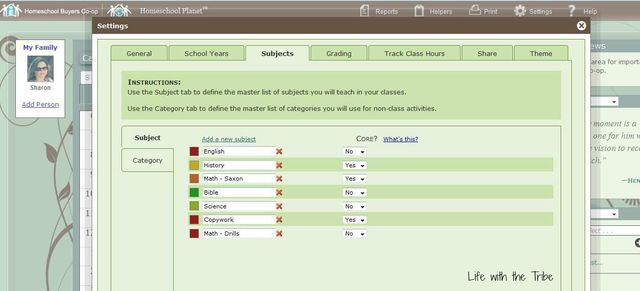 All in One – Homeschool Planet acknowledges that you are not just educating your children but living life. So not only do you have a planner but also a calendar. This allows you to plan your children's studies, add events, appointments, and activities to the calendar, and even create "other" lists such as a chore list and have it easily accessible to everyone. So when a child has as orthodontist appointment on the calendar, I know to shift his studies around. We don't forget to finish up our library books because the return date pops up on the calendar. Trust me, I need all the brain power I can get!
Online Accessibility – With older students that have their own computers and work independently for much of the day, this is a great feature. I can create a password for each of my children and they can log in to Homeschool Planet and view their assignments and activities. I can also give them the ability to edit as well. I generally give my oldest students their assignments for 12 weeks at a time and they decide how to get the tasks completed. They can simply enter in what they completed that week as well.
Printing Feature – This made my younger students quite happy. With Homeschool Planet I make a few clicks with the mouse and can create a customized assignment list to print out for my students. The assignment list includes the chores and assignments for the day with check boxes. My 9 and 7 year old were thrilled to have a printed checklist. My 7 year old asks for her checklist every single morning and loves to get her boxes checked as quickly as possible. I love being able to customize to print just what I want for each student.
Flexibility – This is a key feature for me: the ability of Homeschool Planet to flex with how I educate my children. We use a Charlotte Mason approach in our homeschool so that means many living books are in use and few textbooks. I can schedule Shakespeare, read alouds, and nature study to more than one child for "group studies". There is a scheduling feature that allows me to enter the number of pages in a book, ending date for completing the book, and the frequency of scheduled readings. Then it gives me a breakdown of the page numbers to be read on the scheduled dates. I love this!
Widgets – The widgets provide the ability to create shopping lists or to do lists for yourself or for those you have allowed access. At first, I didn't use them that often. Then I realized that I needed to think outside the Widget Box. Using the To Do List Widget, I created specialized To Do Lists. I have a list of book reviews that I need to post on the blog. Books I want to read? Yes. Books that need to be requested? I got it. It is my personal widget post it note tool. And my three year old can't turn it into her doodle pad.
Rescheduling – Life happens. Instead of cuddling up with the nine year old to read a bit of Marco Polo and discussing the beauty of long division, my morning was spent settling World War III and dealing with a roof leak. Rescheduling a few things was definitely needed. No problem. I can quickly shift uncompleted assignments to the next scheduled days for those subjects and Homeschool Planet will bump everything ahead. Or I can simple double up the assignment or put it on a new day. Simple, easy, and quick!
Customer Service – There is nothing like good customer service. I love dealing with businesses/companies that provide it. Homeschool Buyer's Co-op provides amazing customer service and tech support for Homeschool Planet. I emailed about an issue I was having with Homeschool Planet. Homeschool Planet provided two options on the assignment page: save or close. There was no auto-save feature. So guess what happened? My browser crashed while I was working on assignments.  I lost all the assignments I had entered. I emailed and asked if there were any plans for an auto-save feature. I emailed late in the evening. Before I went to bed I had an email from tech support saying that they would discuss the issue and apologized for my lost work. When I checked my email the next morning, it was to find a new email from tech support. They now had a "save" and a "save and close" button on the assignment page. I now could save while I was working and no longer worry about my browser crashing. Folks, that is amazing customer service.
Final Thoughts
This is the time of year when many homeschool parents are deep in planning mode. It is the perfect time to give Homeschool Planet's Free Trial a test run. It truly is a great resource that is easy to use and has flexibility no matter what learning method you use or the number of students you have. I have no doubt that their amazing customer service will be happy to answer any questions you have. Now I'm off to do a bit of planning for the coming term!
As always other Crew Members have been using Homeschool Planet. Take a moment and see how others have made Homeschool Planet work for them!