Despite the craziness of life, I have found time to read a bit each day. I am trying to maintain having at least two books going at once as I enjoy reading different things at various points of the day/week. However, this week I found that I wanted to curl up with a good book that would not be mentally draining. I'm sure all my fellow moms understand that one, right?
A friend had recommended The Sweetness at the Bottom of the Pie, a mystery novel, by Alan Bradley. It seemed the perfect answer for my need to veg on the couch a bit.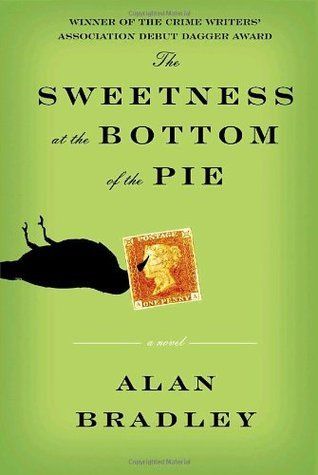 Set in the summer of 1950 in England, we meet Flavia de Luce. Flavia, 11, is quite the chemist with a specialty in poisons. Full of personality and precociousness, Flavia handles life with a widowed father and annoying sisters with enthusiasm and spunk. Then murder finds its way to Flavia's backyard. A strange man is found in the de Luce's cucumber patch and the prime suspect is Flavia's father. With charm, wit, and determination, can Flavia find the true murderer?
I am sure that  for some having an eleven year old as the main character in an adult mystery novel might be a bit odd. However, Flavia handles her role with style. I found myself not only trying to solve the mystery before I reached the end but smiling and laughing as I turned the pages.
The power of relationships is a main thread through this book. It was interesting to see how different characters connected and reacted with one another. I always looked forward to an encounter between Flavia and the Inspector. It was never disappointing. I am curious to see how that relationship will evolve in future books.
An intriguing mystery and engaging characters made for a most excellent afternoon read. I am looking forward to reading more of Flavia's adventures.
A few quotes:
"I reached out and touched his hands and they stilled at once. I had observed—although I did not often make use of the fact—that there were times when a touch could say things that words could not."

"Then I remembered that silence can sometimes do more damage than words."

"Simple pleasures are best."

"Seed biscuits and milk! I hated Mrs. Mullet's seed biscuits the way Saint Paul hated sin. Perhaps even more so. I wanted to clamber up onto the table, and with a sausage on the end of a fork as my scepter, shout in my best Laurence Olivier voice, 'Will no one rid us of this turbulent pastry cook?"

"Chicken fizz! O Lord, protect all of us who toil in the vineyards of experimental chemistry!"

"Once, when I remarked that she looked like a disoriented bandicoot, she leapt up from the piano bench and beat me within an inch of my life with a rolled-up piano sonata by Schubert. Ophelia has no sense of humor."