Whether it is an official Family Game Night or just an afternoon of fun and relaxation, everyone in our home loves a good game. If I can sneak in a bit of learning during game time that is a huge bonus. SimplyFun, a company that believes in the power of play, sent the game Expanders to review. Who could resist the opportunity to play instead of doing math?

Expanders
Expanders is designed for ages seven and up. Basic addition fact knowledge is necessary in order to play. Depending on skill level, age, and mastery of addition, you can change the level of play difficulty.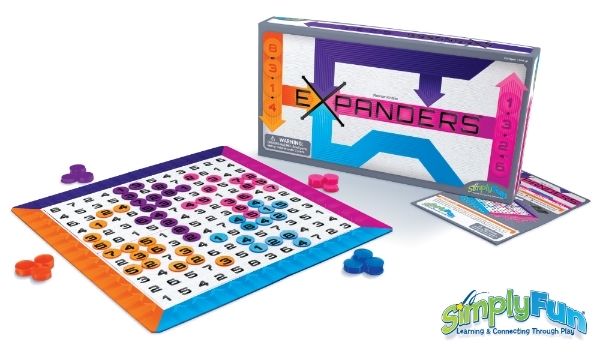 The game board is a frame that allows you to put in numbered slats. For two players, two blank slats are placed in the board. For three to four players, all slats that fill the board are numbered. To increase the difficulty, you place the higher numbered side of the slats face up. Each player has colored tokens to mark her progress on the board.
Play is very simple. You begin by placing tokens on the numbers in the first line on your side of the board. You may either place tokens on two numbers that are the same such as 4 and 4. The other option is to complete a reverse addition. You could place a token on the number "5" and then tokens on numbers "4" and "1". You must verbalize the reverse addition as you play your tokens.
You are not limited to two addends. Playing "9" and then "6", "2" and "1" is an excellent way to make a move. Why? Because the goal is to deplete your token stash before the other players. There is a challenging twist to the game. You can only play on numbers that allow your tokens to touch previously played tokens. This creates a bit of creative thinking at times to see a workable move.
This is where strategy comes into play. While you are playing your tokens, you also want to block your opponents. How better to use up your tokens first? What appears to be a simple game can be quite the challenge.
Our Thoughts on Expanders
We are always up for a good game! I love finding games that allow for a wide range of ages and skill. Expanders was perfect for this. Since it is for ages seven and up, six of my  nine children would be able to play. Reinforcement of math facts and a bit of strategic thinking was a bonus.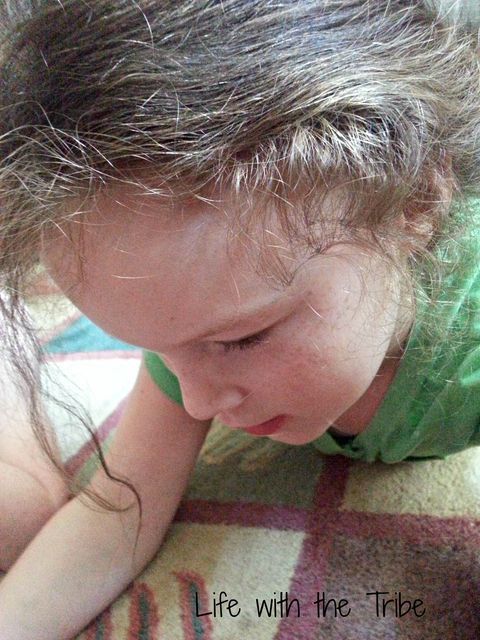 It has been mainly my 11, 9, and 7 year old daughters who have enjoyed playing Expanders. After a brief reading and discussing of the rules, they were ready to play. It was very easy to set up and jump right into playing. I loved how simple it was to begin playing and how quickly even my seven year old picked up on the need for strategy. It only took one time of my blocking a player or two out of options for them to pay a bit more attention to token placement.
Expanders doesn't take long to play. We found that fifteen to twenty minutes was generally adequate for a round. While I did incorporate playing Expanders as "math", my girls often ask to play it for fun. Who am I to say no to fun and learning?
If your family enjoys playing games or you like to add fun learning into your school days, Expanders is definitely one to add to the mix. It would also work well in a classroom setting whether traditional or perhaps a homeschool co-op.
Other Crew Members reviewed Expanders as well as another game, Shape Whiz. Check out a review or two. You might need to add an item to that homeschool planning list.