Truly Lovejoy's life has just taken an unexpected turn. After her father suffered an injury in Afghanistan that changed his employment options, the Lovejoy family moved from Texas to Pumpkin Falls, New Hampshire.  Pumpkin Falls has been the homeplace for the Lovejoy family since its founding. One of the landmarks of this small, cozy town is Lovejoy's Books. Truly's father joins his sister in running the family bookstore.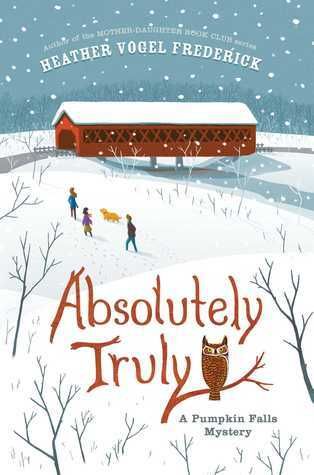 Transitions in life are never easy as Truly knows well. Truly is use to being stuck in the middle of two older brothers and two younger sisters. Now it is even more challenging with a mom going back to school and a dad trying to keep the family bookstore running and dealing with his injury. Truly is finding this move a bit overwhelming.
Then one day she finds an autographed first edition copy of Charlotte's Web. Inside the book reveals a treasure: an undelivered letter. The letter is written in code using quotes from Shakespeare. Truly has no clue who wrote the letter, whom it was meant for, and well, what exactly it means. If the mysterious letter were not enough, this rare copy of Charlotte's Web goes missing. Truly does not tackle this mystery alone. Friendships quickly form when classmates join Truly to find the owner of this undelivered letter.
While Absolutely Truly is a Pumpkin Falls Mystery book, I think this book is really about relationships and struggles. Truly is one of five children and we get a great feel for life as a part of a large family. As we see the dad struggling to accept his injury, we get glimpses to the fun and fellowship this family once shared and we are happy to see that it returns. Being in a military family, Truly was not new to the challenges of moving to a new town. That experience does not make this move any easier although she soon finds her place.
Heather Vogel Frederick did a lovely job creating the town of Pumpkin Falls and its range of characters. I had no problem envisioning the scenes as the story unfolded. As you read you will likely know someone like most of the characters in  Pumpkin Falls. It was a delight to visit.
I was happy to pass this along to my twelve year old daughter who is always ready for a mystery. She loved Absolutely Truly and can't wait for the next Pumpkin Falls Mystery. My sixteen year old read it as well as she needed a quick read. She agreed that it was a fun , enjoyable story. I think that girls 10 and up would love reading Absolutely Truly.