Over the years of homeschooling, literature has been a constant. The use of literature has provided meaningful study for all of my children in a variety of ways. As my older ones are traveling through their high school years, we take a formal approach to literature study at times. When my daughter, Rebekah (16), learned that a new literature resource was available she did not hesitate to tackle the course. Illuminating Literature: When Worlds Collide is a new  literature course from Writing with Sharon Watson that we have been reviewing over the summer. If you have a high school student, you don't want to miss this resource!

Illuminating Literature: When Worlds Collide is a literature course designed to develop a love of rich literature, discernment of worldviews, and authors' beliefs. Your student will learn to recognize conflicts in a story and discuss religious, ethical, personal, and challenging topics. Literary devices such as: allusion, mood, voice, irony, empathetic character, point of view and more are studied as well. While the When Worlds Collide course is written from a Christian worldview, books used in this course will vary in worldviews.  To utilize this course, your student will be required to read books that may be challenging for them personally.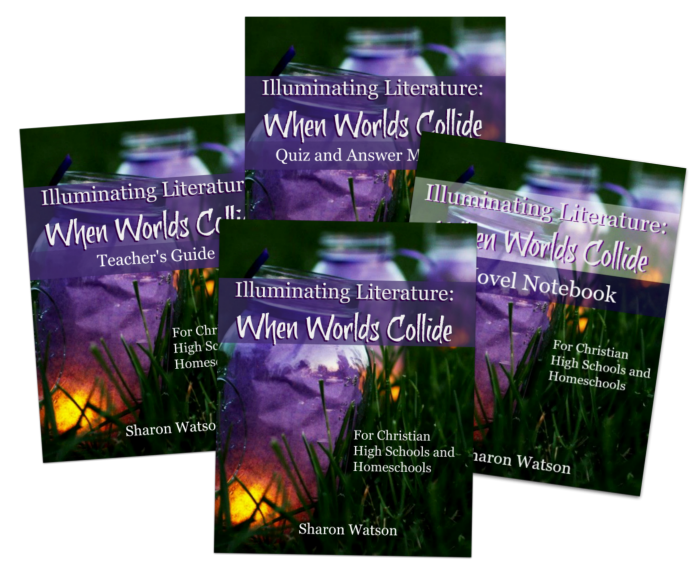 The books read and studied for Illuminating Literature: When Worlds Collide are:
Pudd'nhead Wilson (Twain)
The War of the Worlds (H. G. Wells)
The Friendly Persuasion (West)
Peter Pan (Barrie)
Warriors Don't Cry (Beals)
A Tale of Two Cities (Dickens)
Fahrenheit 451 (Bradbury)
The Screwtape Letters (C. S. Lewis)
Note: These books are available inexpensively or likely even found in your local library. However, specific page numbers for these works are referenced throughout the course. For ease of use, especially if used in a group setting, using the suggested publisher and ISBN of each book is recommended.
Outside of the book selections above, there are four components for the When Worlds Collide course.
Student Workbook – Since When Worlds Collide is a student directed study, the student workbook is a key component for this course. Sharon Watson has an engaging, down to earth manner that high school students will find easy to understand and enjoy. Watson has a gift of clearly teaching and explaining.
Each book is broken down into several lessons. The students will learn about the author, read about literary terms/devices, learn a fun fact or two, and have various writing assignments for their Novel Notebook. A clear schedule is suggested for the introduction of each book and the reading. The books will take about a month each to work through. This provides a nice, steady pace for study.
After reading, discussion questions are provided to help the student see where the worlds collide, identify the conflicts, and compare that with their worldview. At the end, the student is assigned an activity that could be writing a short story, drawing a scene from the book, watching the movie, or writing a song.
The Teacher's Guide is an excellent resource. Suggested scheduling, clear explanations of what is being studied, answers to discussion questions, grading guidelines and fun suggestions like a candy bar that connects with the story are all provided in the guide. For War of the Worlds, as your student begins to read the book, you hand them a Mars bar or Milky Way. I suggest buying one for yourself, too. While the answers for the quizzes are provide, students can opt to take the quizzes online. My daughter chose to take the quizzes online and enjoyed getting the instant feedback.
This study is designed well for group study such as a Book of the Month club. One easy way to have a group study is on Facebook. Sharon Watson has done this successfully and provides Facebook ready posts for you to stimulate conversation and discussion.
If you prefer for your student to work offline, a Quiz and Answer Manual can be purchased that has all quizzes and surveys ready for your student. This is an excellent resource if you have a student who might be distracted from his/her task when online.
And the final, must-have component of When Worlds Collide is the Novel Notebook. The Novel Notebook is required and will be used through out the course. In this notebook, the student will jot down quotes, examples of the literary device they are currently studying, categorize conflicts, write something they found interesting about the author,  and more. You can simply take a composition book and have your student use it as their Novel Notebook. However, you can download a FREE pdf Novel Notebook. This has the questions already printed with a fun notebook graphic design. Simply download, print, and place in a three ring binder and your student is ready.
You can download free samples of all the components of the Illuminating Literature: When Worlds Collide Course.
Our Thoughts
When Illumination Literature arrived, Rebekah jumped right into the course. Sharon Watson was gracious enough to have the first two books required sent to us so we coudl begin the review right away! Rebekah is excellent at independent study so this student-led course has been well-suited for her. She has tackled the course work and found benefit even in the stories that were outside her preference. She is not a science fiction fan so War of the Worlds would not have been on her To Read list. Even though she has read a few of the selections in this course, I have no doubt she will look at the books in a whole new way.
About once a week, we have an informal time of discussion. It has been interesting to see her flesh out worldview, conflicts, and how that lines up with her Christian worldview. She also participated in a Facebook Book Club/Study with other students working through this course. She appreciated Sharon Watson taking time to join in the discussion as well.
I think we will have fun with the Choice of Activities at the end of each book. We learned that Sam Clemens' (Mark Twain) daughters would often ask him to make up stories. He would often use random items and find ways to weave them into a story. One of the activities suggested was to give your student five random items and have them write a short story.
Here is an excerpt from Rebekah's short story (She had to place a pen, knitting needle, book, water bottle, and fork in her story):
"History repeats itself. If you wait, what you have read in your schools books, in those dingy little rooms and high backed chairs, will come to pass, though in a remarkably blurred manner at first. Then as it continues you see it for what it is, as the leader of the movement sees no opposition, and has no fear of those in power." The scratching of the pen ceases, as the prisoner pauses to refill it with ink. "It is upon the young people of today, even of the older people, of whom I beg on my very knees to stand for all that is right and that they hold dear. I have failed as so many of my friends and helpers. I cannot bear to think of all that may occur if this continues. May you be bold in the fulfillment of my request. May you be more fearless and resourceful in your battles. Be considerate of all men, have mercy on the weak, and pray for the souls of your captives." The prisoner pushes the papers aside and buries his face in his arms.
It had been a long day. A long year. It would all end today. It had started because of a book, a small, well worn book that had been found in an old cellar under a pile of ashes. It had been passed around secretly, all over the country. It had been copied, memorized, read in hushed voices in crammed rooms full of eager listeners.
Illuminating Literature: When Worlds Collide is a wonderful literature resource for your high school student. It is presented in an easy to use format for teacher and student. It is engaging, thought provoking, and effective. Our children fully understanding what their worldview is and also developing the ability to discern the worldview of others is crucial. Illuminating Literature handles worldview beautifully. It is my new top pick for a high school literature course.