Last week a quick trip to the library replenished my diminishing stack of reads. Tsk, tsk, I couldn't risk letting it dwindle too low, right? So the "Currently Reading" stack is looking fabulous!
From middle grade fiction to classic reading, I think I have it covered: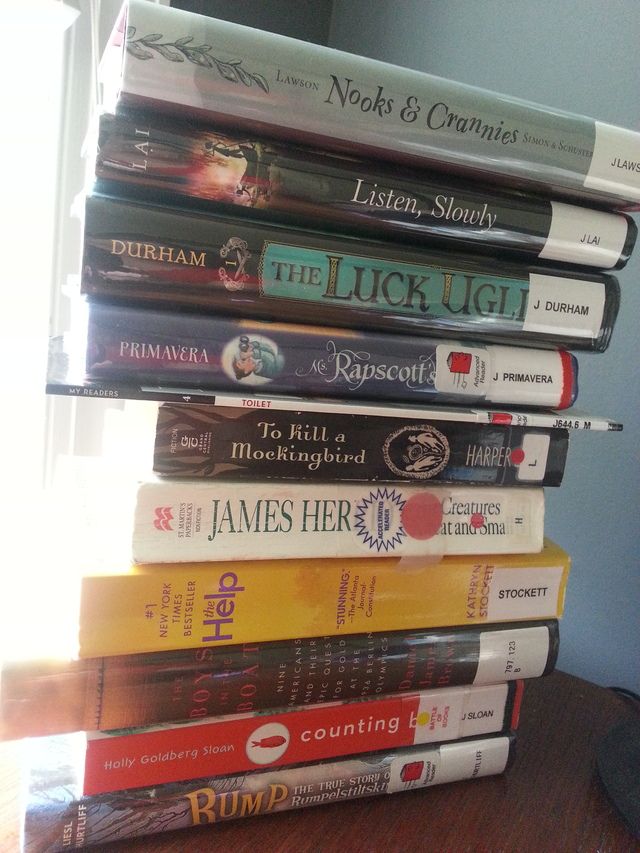 Doesn't that book tower look super stable?
Dear Hank Williams (Kimberly Willis Holt)- This is not pictured on the stack. I was reading it at the time of the snapshot. I will have more on Dear Hank Williams in the next day or two. It might be one of my favorites of the year.
Nooks & Crannies (Jessica Lawson) I have enjoyed what I have read so far. If only I had a moment or two to read today!
Listen, Slowly (Thanhha Lai) The cover caught my eye and hopefully the story will not disappoint. I haven't started this one yet.
The Luck Uglies (Paul Durham) – I read about this book on Semicolon some time back and meant to grab it from the library. Finally picked it up last week.  It is already making its rounds through the house.
Ms. Rapscott's Girls (Elise Primavera) – I'm a few chapters into this one but will reserve judgement until the end.
Toilet: How it Works (David Macaulay) – Not much to say on this other than I'm a mom with kiddos who love stuff like this. I keep forgetting to flip through it and slide it on their shelves.
Counting by 7s (Holly Sloan) –  This was in a pile of "To be Read" books last year and I never got to this one. Trying again….
Rump: The True Story of Rumpelstiltskin (Liesl Shurtliff) – Who can not enjoy a good Rumpelstiltskin tale?
I do love a good children's book but on to the adult selections.
To Kill a Mockingbird (Harper Lee) – A favorite of mine that I am re-reading in preparation of reading Go Set a Watchman. I have it requested at the library and waiting my turn. Before I read Watchman, I want to refresh my thoughts and memories of To Kill a Mockingbird.
All Creatures Great and Small (James Herriot) – Other than the Herriot Treasury for Children, I have not read any of his works. Horrible, yes? My two oldest daughters have enjoyed this book and still laugh over some of the stories. I want to join in the fun!
The Help (Kathryn Stockett) – Another re-read for me. I read it a few years ago. Now I have a daughter interested in reading it. While at her age, I generally let her make her own selections, I thought it would be good to re-read so we could have discussion. I think I need more reading time.
The Boys in the Boat: Nine Americans and Their Epic Quest for Gold at the 1936 Berlin Olympics (Daniel James Brown) – I initially chose this book to pre-read before letting my son, 13, read it. He read Unbroken and was deeply moved by the story of the men from WWII. It can be so challenging to find stories of courage, hard work, integrity, etc for young men. I need to start reading this one soon!
And that is all. Well, maybe. Tomorrow is a schedule library run. I must say no to more books!
What are you reading? Because I love to hear about others current reads.