Dear Hank Williams (Kimberly Willis Holt)  It is 1948 in Louisiana and Tate P. Ellerbee has been given the assignment to write to a pen pal all year long. Mrs. Kipler has planned for each student to have a pen pan from Japan but Tate knew exactly who her pen pal should be: Hank Williams. Every Saturday night Tate, her Great Aunt Patty Cake and Uncle Jolly tune into KWKH to listen to the Louisiana Hayride.  Tate loves listening to this new country singer, Hank Williams.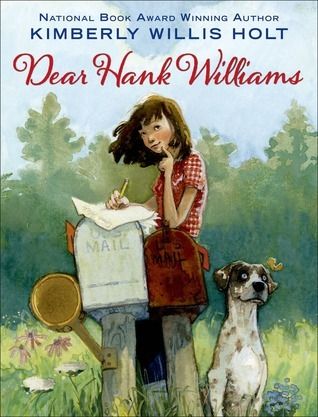 Through Tate's letters to Hank Williams we learn that Tate is a sweet, funny, energetic young lady with a heart full of longing and sadness. At first Tate's life seems lovely. She lives with Aunt Patty Cake who is as predictable as the sun, Uncle Jolly who gets his heart broken at an alarming rate, and Frog, her pesky little brother.
"Aunt Patty Cake is like the sun. No matter what happens, you know that when you wake up, the sun is going to be there. Oh, there may be clouds trying to block it from shining, but the sun will be up in the sky, a big ball of fire burning, no matter what. The sun is so stubborn, the moon has a time getting rid of it. And when the sun finally slips past the horizon, you know it's there waiting to rise again. That's Aunt Patty Cake."
While Tate's letters to Hank Williams give a glimpse into life in a small town in Louisiana, the true story is one of loss, tragedy and persevering. This young girl has dealt with much loss and grief and she slowly reveals this in her letters. Her father has left, her mother is in prison, and a greater loss than that has come to Tate.
"Well, that's my family. We may not be perfect, but as Uncle Jolly says, we're like flypaper. We couldn't get unstuck from each other if we wanted. We're together through the good and bad. Swear to sweet Sally, we are."
As you read Tate's story you can't help but to smile, laugh and hurt along with her. She has a spunkiness and charm that is hard to resist. Her responses to life are so real and true it is heartbreaking. While this can serve as an excellent piece of historical fiction, the true beauty in Dear Hank Williams is in Tate growing and accepting difficult events in life.
"If I did stick Momma's postcards on my wall, I'd hang them where the backs showed. Then I'd have Momma's words surrounding me–"
Dear Hank Williams is one to add to the book basket for ages 10 and up. Boys might be a bit hesitant to give this one a try, but it might work well as a read aloud. My twelve year old daughter enjoyed Tate's story and recommends it as well.