This summer I came across The Curious World of Calpurnia Tate (Jacqueline Kelly) on the "New Books" shelf in the children's section. When I realized that it was Book 2, I re-shelved it and went in search of the first book: The Evolution of Calpurnia Tate. This read shares with us the story of Calpurnia Virginia Tate in the year of 1899. In the blistering heat of Texas, a little piece of nature changes Callie's world.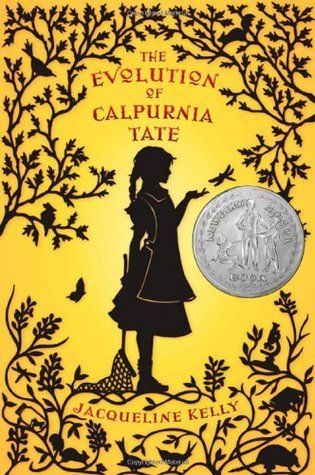 One day while trying to survive the Texas heat, Callie notices yellow grasshoppers among the common green grasshoppers. She begins to wonder why there are yellow grasshoppers. A rare conversation with her reclusive and somewhat cranky grandfather inspires Callie to look deeper at the grasshoppers to answer her own question. This observance in nature leads Callie to a love of nature, discovery, and science. It also leads to a sweet relationship between Callie and her naturalist grandfather.
Life isn't just about jotting observations down in a nature notebook or collecting specimens. And as Callie is maturing into a young lady, she finds herself struggling with what is expecting of her. Her mother is doing all she can to prepare Callie for life as a wife and mother.  This is a matter of struggle for Callie as she has no interest in these female pursuits of knitting, sewing, and cooking. The thought of such a life ahead of her is heavy on her mind.
Will her love of science and her expected future find a place together? A neat and tidy ending to that question is not fully answered in the end. While we see small plot lines finding closure, we are left unsure of what the future holds for Callie.
Overall, I enjoyed reading about Calpurnia. The relationship between Callie and her grandfather was a highlight for me. Portraying the value and wisdom of the older generations is a beautiful thing and an important one. It was lovely to see these two come to an understanding of each other and share experiences.
"We had been so close to missing each other, he and I. He had turned out to be the greatest gift of all."
Callie's relationship with her mother is strained? I'm not sure that is the right word. Mrs. Tate does not agree with Callie's interest in science. She desires to see Callie embrace and excel in the feminine pursuits of the day. Callie sees her mother's life as one of drudgery, hard work, and no joy. As a stay at home mom, I find it disappointing that Mrs. Tate's life is seen so negatively. I have no issues with the tension between the two worlds as it represents the time period and the thought toward women's role. However, do we really want to speak to young girls today and suggest that being a mom is unworthy? This is another example of an unfinished plot line. As I prepare to read the second book, I hope that this conflict finds closure in a way that doesn't put such a negative shadow on the lowly housewife.
"But my mother's life was a never-ending round of maintenance. Not one single thing did she ever achieve but that it had to be done all over again, one day or one week or one season later. Oh, the monotony."
I enjoyed the nature aspect of this book. Having my children outdoors and observing God's creation is an important part of learning more about Him. It was fun to see a young girl learning much about the natural world around her. But….there is clearly an evolutionary slant to this book. Each chapter begins with a quote from Charles Darwin's Origin of Species. Origin of Species is also shared with Callie courtesy of Grandfather. The book just doesn't deal with Callie's evolving but it also supports that thought throughout. While I don't agree with evolutionary thinking, this would not cause me to restrict my daughters' reading of this book. It provides an excellent platform to jump into discussion on worldviews and such. We do love a good discussion.
"I don't have that many days left," he said as we sat together in the library. "Why would I want to spend them on matters of drainage and overdue accounts? I must husband my hours and spend every one of them wisely. I regret that I didn't come to this realization until I reached fifty years of age. Calpurnia, you would do well to adopt such an attitude at an earlier age. Spend each of your allotted hours with care."
Is this an action packed page turner? An emotionally gripping novel? I would say no. This is more of a rainy afternoon with a cozy blanket and a yummy snack kind of book. A story of a young girl, her family, and daily life with a bit of excitement and laughter here and there. This is definitely for a  reader who can enjoy a slowly weaved story.  Overall, I found this an enjoyable summer afternoon read. While my girls haven't read it yet, I'm sure there are one or two of them that will enjoy visiting with Callie. I have The Curious World of Calpurnia Tate on request at the library. I'll let you know how it goes.
"One day I would have all the books in the world, shelves and shelves of them. I would live my life in a tower of books. I would read all day long and eat peaches. And if any young knights in armor dared to come calling on their white chargers and plead with me to let down my hair, I would pelt them with peach pits until they went home."