Over the years we have read and been inspired by several biographies from YWAM Publishing. It started years ago when we read, George Mueller: The Guardian of Bristol's Orphans. Most recently we had the opportunity to review Eric Liddell: Something Greater than Gold and the corresponding Unit Study Curriculum Guide: Eric Liddell.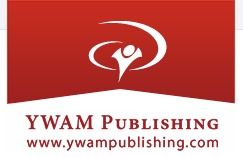 You can learn more about YWAM Publishing on their About Us page.
My children were familiar with many of the inspiring missionaries in the the Christian Heroes Then and Now series.  Betty Greene, Jim Elliot, Nate Saint, Gladys Alward, Adoniram Judson, David Livingstone are all familiar names. When I had the opportunity to select which person I wanted to share with my children I chose the selection Eric Liddell: Something Greater than Gold. None of my children were familiar with Mr. Liddell as a Olympic medalist or a missionary.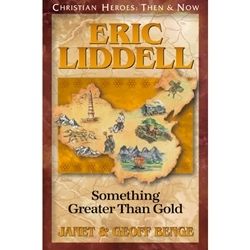 Something Greater than Gold takes us through Mr. Liddell's life from his childhood with missionary parents in China, to boarding school, college, the Olympics, and traveling himself to China. My children were struck by the reality of life as a missionary during the early 1900's.  Once Eric reached school age (5) he had to leave his parents behind and spend over ten years away from them. Thankfully he had an older brother at school with him. We had a great discussion on how challenging this must have been as a parent and a child.
The character of Eric Liddell is clearly shown from the beginning. Despite his shy, quiet manner he was willing to speak in front of any crowd to share Christ. No matter if an Olympic gold was on the line, he would not back down from his observance of Sunday as the Lord's Day.  Even when showered with much admiration and fame, he left it all to serve those in need in China.
While this would have worked well as independent reading, I chose to read it aloud during our morning group time. I simple added it to my stack to grab each morning. Some days I read a bit at lunch. One thing I really appreciate about these books is that they appeal to a wide audience. From my seven year old and up we all are engaged and interested to see how the lives will unfold before us.
Unit Study Curriculum Guide: Eric Liddell presents several ideas and activities to take this missionary biography into all areas of learning. Memory verses, display suggestions, essay questions, hands on projects and more are put together for you in an easy to use resource. Perhaps you have a child whose learning style means that he needs to make a papier-mache model of China and mark where Eric lived.  Essay questions such as, "explain the ways that that various wars impact Eric Liddell's life", work perfectly for the older student. This essay question alone brings history and writing skills into play.
I chose to use the unit study guide informally. As we are reading through the text, I like to preview the chapter questions from the unit study guide. This helps me to remember some key points or issue we might want to discuss afterward. Generally our casual narrations after reading cover everything but sometimes important things get overlooked.
Answers to the chapter questions are provided in the back on the unit study guide. If you chose to use these Christian biographies for independent study, it is easy for you to check comprehension and understanding with the chapter questions.
With a large world map on the wall, it is not uncommon for my children to locate places we read about. The unit study guide provides a quick reference of key places in Eric's life. This helps to make a little geography/map study easy to incorporate.
While we as a homeschool family enjoyed Eric Liddell: Something Greater than Gold, YWAM's Christians biographies and unit study guides would work beautifully in a group setting: homeschool co-op, Bible study class, Sunday School classes, etc.
There are so many great people to learn about through YWAM Publishing. Take a peek at what other Crew members have been reading!