One of my daughters is currently in 7th grade and I decided that I wanted to focus a bit on literature study in a more formal way. Participating in a review with Progeny Press worked out perfectly. Lydia has been reading and studying Tuck Everlasting using the Tuck Everlasting E-Guide/Study Guide.
Progeny Press offers literature study guides that aid the student in understanding the literature selection from a Christian Worldview.  Sharing literature with our children provides a way to learn, experience, and understand people, places, and circumstances that are not a part of their worlds. This can often bring up challenging points of discussion. Utilizing resources such as the Progeny Press Study Guides can serve as an excellent way to handle tough issues. Study guides are available from Lower Elementary through High School.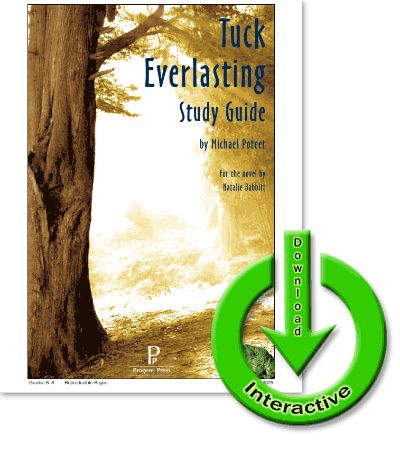 Tuck Everlasting E-Guide is designed for Middle School grades. However, depending on the age and interest of your student you could easily flex this guide to work for a bit younger or older. You can view a sample of Tuck Everlasting E-Guide and other guides as well.
The Tuck Everlasting E-Guide comes with the Student Guide as well as an Answer Key for the parent/teacher. The study guides are very simple to implement and are basically "open and go". After downloading the study guides, there are two basic ways to use the guide. You can simply print the PDF and use it in the traditional paper and pencil method. However, the E-Guide PDFs are interactive. This means after downloading the guide, your child can type answers directly into the PDF. A very simple and efficient use of the resource.
Due to the ratio of computers to people in our home, finding time to work on the computer can be a bit of a challenge. Also the student using this program often expresses herself more easily orally. With those factors coming into play, we chose to pass on the interactive feature of the study guide. Depending on the assignment/activity in the guide, my daughter either wrote her answers or we had discussion using questions from the e-guide.
The study guide is very straightforward. The student learns a bit about the author and the synopsis of the selected book. There are some "Before You Read" activities that are often a fun way to dig a bit deeper into topics that will be presented in the text. As Tuck Everlasting deals with immortality, one of the suggested activities was to research Juan Ponce de` Leon and the Fountain of Youth. Discussing the quest for forever youth was quite lively.
Lydia read through the book completely and then we were ready to begin. The study guide addresses the book a few chapters at a time. Vocabulary, literary terms, descriptive writing, comprehension/discussion questions as well as a Dig Deeper section are all different aspects of each lesson.
I appreciate that presenting the vocabulary was handled differently in each lesson. Multiple choice, matching with synonyms, using the words in your own writing were a few of the uses. The vocabulary section was the least favorite part for Lydia. I'm not sure why except that it felt a bit "test like" since she did this portion on paper.
Having the discussion questions are really helpful in making sure that we did not miss important aspects of Tuck Everlasting. The Dig Deeper sections, where scripture references are brought in, always provide for excellent conversation. Discussions on fearing death, the significance of names, and our impact on the world around us are powerful and meaningful.
In our home, with so many avid readers, we can very easily fall into the habit of reading, reading, and reading without stopping to deeply ponder various thoughts, ideas, and issues shared via literature. The Progeny Press study guides can help us slow down, savor the story, and look at the depth and meaning of the story. While I do not use these study guides always, I do find benefit in adding in one or two a year. These guides serve as an excellent literature study resource that is easy to implement, affordable, and non-consumable as a PDF download.
No matter the age of your student, there are a variety of guides available. From Miss Rumphius to Fahrenheit 451*, there is sure to be a study guide for your literary studies.
As always other Crew Members were able to review from a selection of e-guides. Why not take a peek and see what others are saying!