I have two picture books to share with you today that have been recent favorites from the Picture Book Basket.
First up is Counting Crows by Kathi Appelt.  The cover of this book completely caught my eye. Black and white crows with snazzy red and white striped shirts. And don't forget the fashionable crow sporting a red polka dotted scarf! So engaging to the eye. These simple black and white illustrations meld perfectly with the rhyming text of counting crows.
One, two, three, crows in a tree…
As we turn the pages the number of crows increases (up to twelve) as does their snacking. But the crows need to worry about more than their snacks. A cat is lurking waiting to have a snack of his own! Keep an eye on that flashy crow's scarf.
Nine little spicy ants,

nine round crackers.

Nine for the counting crows.

Nine, by smackers!
Counting Crows is a simple, quick read but an excellent addition to the book basket. Even the youngest will enjoy the rhyming text and fun, bright illustrations.  (I just read it again myself.)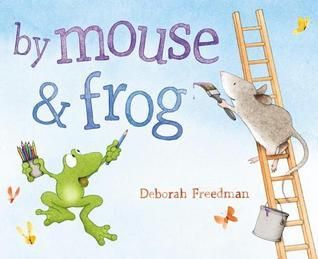 By Mouse and Frog (Deborah Freedman) has been read over and over.  Mouse is writing a story. What could be better than a quiet, little story about enjoying a cup of tea? But Frog, mouse's friend, jumps in and wants to take the story in a more exciting, energetic direction.
When these two ideas collide, all that is left is a big story mess! Spilled tea,cake, and of course, there must be ice cream. Kings and dragons? Yes! Until Mouse can take no more and yells for Frog to STOP!
Illustrations highlight the unfolding stories of Mouse and Frog. The expressions of Frog will just break your heart. Poor guy.  What are two friends to do? Work together to create a story suited to both personalities and include a half-jillion fairies. A great story of the beauty of friendship no matter how different you are. It might just encourage a story or a sketch or two. Trust me. This is too cute and fun not to share with your kiddos.