I was a pen and paper gal. After several failed attempts at using various computer/online planning resource, I was confident in my pen and paper method. Until it wasn't working. Then I threw aside my Luddite ways and embraced the world of online planning. For a while, it was great. It appeared that I had successfully transitioned and could save a tree or two. However, I began to notice a strange thing. I was planning with paper and pen and then transferring it to my online planner. Not exactly saving time, was I?

I decided that I needed to stop fighting my love of pen and paper. So the search for the perfect planner began.  As I was searching for the paper planner that I wanted to use, Apologia Educational Ministries made The Ultimate Homeschool Planner (orange) available for review.  Was the Ultimate Homeschool Planner the answer to my planning problems?
What the Ultimate Homeschool Planner Offers Homeschool Moms
A quick Google search will present you with an overwhelming selection of paper planners. So, what does The Ultimate Homeschool Planner offer that makes it the right choice for you? (Make sure you download the Ultimate Homeschool Planner Sample and TOC!)
*Helpful Tips & Examples– While this planner is very user friendly and not complicated to implement, it is often helpful to see how the pages were intended to work to help get us started. Also helpful for those who may beginning homeschool planning for the first time.
*Variety of Planning Pages – For recording reading list, field trips, academic goals, resource lists, etc, there are enough pages for up to six students.
*Monthly Calendar – Twelve blank monthly calendars are provided. These pages allow adequate space for keeping track of monthly engagements and important dates. Having the pages undated makes this planner work no matter when your school year begins or even if you begin using it mid-year.
*Weekly Planning Pages – There are 48 weekly planning pages. Again flexibility is key in these planning pages. It is all left blank and up to the homeschool mom (or dad) to decide how to make it work. Six rows across and six columns down can be worked in a variety of ways.  Six students? Six subjects? Six school days? Six time blocks? It is all up to you!
There are additional resources for the weekly planning that help you with focus for the week. You can see these in the sample pages. The Ultimate Homeschool Planner is clearly intended for the Christian Homeschooler. These weekly pages are to aid in focusing on scripture, prayer, etc.
How The Ultimate Homeschool Planner Worked for Me
When The Ultimate Homeschool Planner arrived, I did a quick flip through to get a feel for the planner and what it had to offer me. I looked over the beginning pages that shared about planning and how to use the planner. Then I went straight to to the weekly planning pages to transfer information over. There was no way that I was going to fit in the seven children who are "officially" homeschooling. I also wanted to use the planner to hold me accountable for doing early learning activities with my little ones. Since my two oldest are independent and planning out their own weeks, it seemed counter-productive to put them in my planner.
After a bit of writing, erasing, and re-evaluating, I opted not to put my two middle schoolers in the homeschool planner. We are working on encouraging more independence in learning and studying for them this year. So I am just jotting down reminders to check their work or meet with them certain days of the week. They have separate planners for their weekly assignments.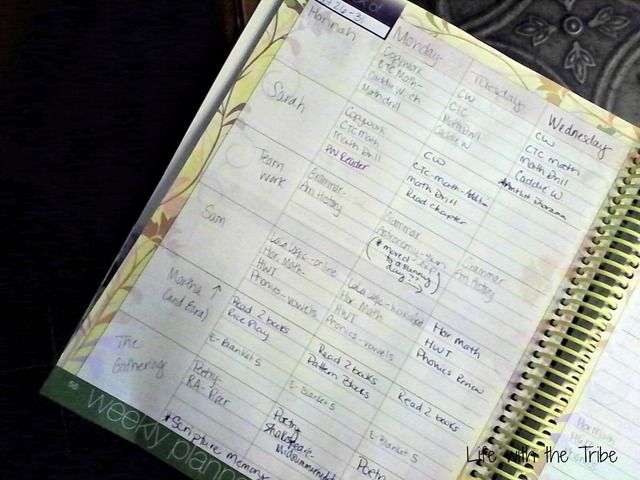 This left me with three official students and two little ones for my planner. I opted to use the six rows for: Hannah, Sarah, "Together", Sam, The Littles, and The Gathering. "Together" is for subjects/projects that Hannah and Sarah are doing together such as science and history. The Littles is a spot for me to jot down activities/goals for my three year old and sixteen month old. It is easy to get busy and not take time to read a book or take a walk outside with my little ones!  The Gathering is our circle time as a whole family. Here I can plan out each day what we are going to try to cover/read/discuss.
One aspect of the planner that I don't like is that the calendar and weekly pages are separate. Meaning that you have all 12 calendar months and then you have the 48 weekly planning pages. I would prefer to have a calendar month followed by four or five weekly planning pages. To work around this,  I simply paperclip the current month and the current week so I can easily find what I need.
While all resource pages are helpful, I am flexing them to make them suit our needs better. My children track their own reading lists and we don't do many field trips. Those pages would be wasted if I didn't tweak a bit. With a sticker or two, I have turned these pages into: Books to Buy, The Gathering Plans, Books to Read, Books to Review, etc. I would love to see these list style pages left blank to better serve the wide range of homeschoolers.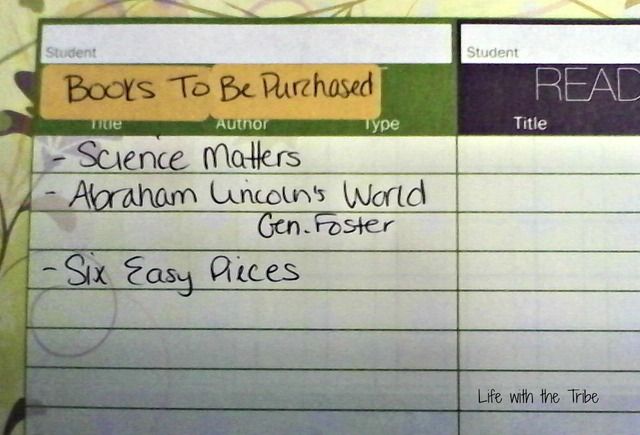 I am a random note taker/list maker/doodler. There was only one "free" Notes page in the whole planner. All other pages were pre-labeled. I need more pages for writing/notes so I have to keep an extra notebook with my planner or paperclip in sheets of paper. It would be great for a few note pages to be added for each month.
To streamline the planner, I also removed pages that were not necessary or relevant. After the initial reading I didn't need the examples of how to use the planner or planning tips. Removing clutter helps me focus!
Overall, with a bit of tweaking, The Ultimate Homeschool Planner is working for me. Will I buy this next year? Not likely. There was a bit too much tweaking with all the pre-labled pages. With our family size and learning method, I need more flexibility. However, I will continue to tweak and use it.
Other Crew Members have been using The Ultimate Homeschool Planner. Every family is different so take a moment to see how others have been using this planner. I know I'm going to go read a few and be inspired.