Hours ago the plan was for this blog post to be a book review. If nothing else, we read a few books in this house. I have several that I want to share with you. But, well, guess what? It didn't happen. Because I'm a mom. And I'm forgetful.
Today, Mary and I restarted our running. Hopefully we will get back in the groove quickly and be able to run another 5K in December. After a few months off I was prepared for intense pain and a near death experience. It went much better than expected. We only ran a mile today but, hey, it was raining!
I love to encourage my children's creativity. Some may need a little less encouragement. While I was deep in the trenches of grammar and mathematics, Ezra was developing his love of Sharpies. On a door. In my house. Quiet toddler = Trouble. Rookie mistake, mom. Rookie mistake.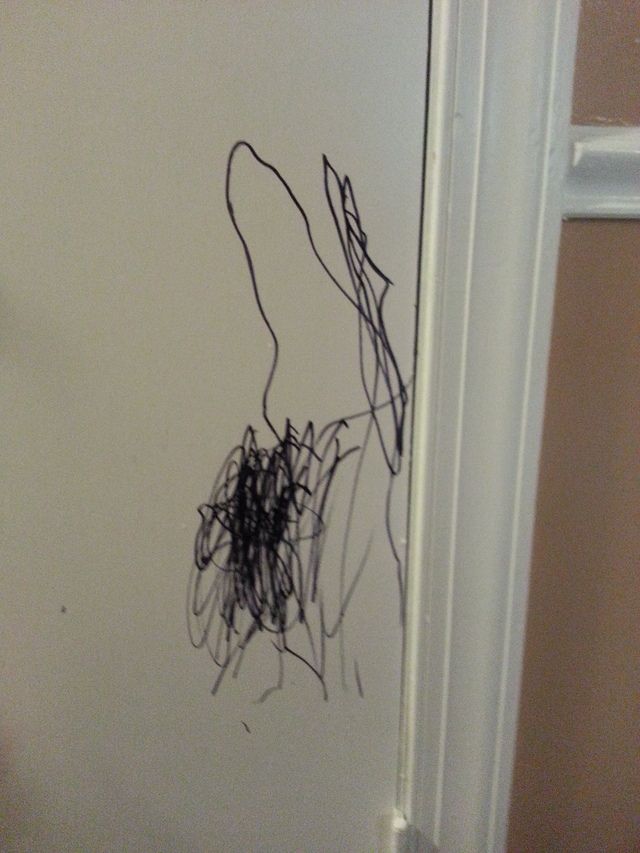 No need for fancy candles or warmers in our home. We have mastered the Burn Smell. Mastered it so well that we no longer notice when something is truly burning. You know, like the plastic mixing spoon sitting in the empty pan on top of the very hot burner? Yes. The browning meat that mom forgot about while rocking a toddler back to sleep? Yes. I am sure that Burn Smell will be the next big wave in candles. Trend setters we are.
It all works out in the end. The Sharpie masterpiece met its match in the Magic Eraser. I scrubbed the burnt pan within an inch of its life and it will live to cook another day. Even better? In an effort to mask the charred ground beef, Mary volunteered to make homemade hamburger helper. I love getting bumped off kitchen duty. Go, mom!
Just a normal rainy Tuesday. Bring it on, Wednesday. Bring it.
Any aspiring artist in your home? What medium do they like to work with? Sharpie has always been a favorite here.