My children and I have shared some wonderful picture books this year! Here are a few of our favorites: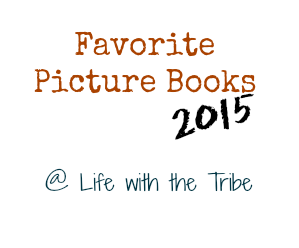 The Bear Ate Your Sandwich (Julia Sarcone-Roach)
This is Sadie (Sara O'Leary)
Please, Mr. Panda (Steve Antony)
The Bus Ride (Marianne Dubuc)
By Mouse and Frog (Deborah Freedman)
The Whisper (Pamela Zagarenski)
There Was an Old Dragon Who Swallowed a Knight (Penny Parker Klostermann)
Bear and Squirrel are Friends (Deb Pilutti)
Bear Has a Story to Tell (Philip C. Stead)
Tiny Creatures: The World of Microbes (Nicola Davies * Emily Sutton)
Maple & Willow books (Lori Nichols)
Read Me a Story, Stella (Marie-Louise Gay)
I Want My Hat Back (John Klassen)
Check out other picture books we have read this year, here.
I'd love to hear about books you enjoyed in 2015 with your little ones!