From Fix It Grammar to Writing Intensives, we have enjoyed using resources from the Institute for Excellence in Writing in our home. For the past several weeks,we have been reviewing Linguistic Development through Poetry Memorization (including a printed copy of the Student Book) from IEW. It has become a regular (and fun) time during our mornings together. We all appreciate when learning can be beneficial and enjoyable across the ages.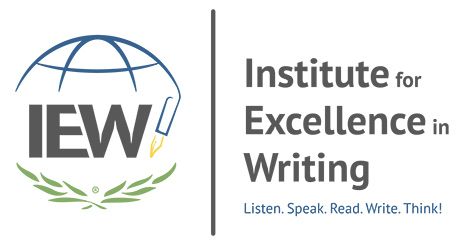 Encouraging memorization with my children has always been important to me. Until a few years ago, it was a regular part of our learning. It seems that I had lost consistency with my younger children when it comes to working on memorization. There are so many benefits to memory work that I wanted to re-introduce this habit. Linguistic Development through Poetry Memorization came at the perfect time to help me reset our focus and have my younger ones get excited about memory work!
Linguistic Development through Poetry Memorization is brilliant in its simplicity. As a mom of nine, I heartily embrace the beauty of simplicity! Memory work does not have to be boring, stressful, or overwhelming.
IEW's Poetry Memorization Components:
Teacher's Manual – This contains 96 poems and speeches divided into Five Levels. Level One will have you memorizing a short poem about the untimely demise of a mighty worm and in Level Five St. Crispin's Day Speech from Shakespeare's Henry V will be in the line up.
If you are new to utilizing memorization with your children, an introduction explains the importance of memorization and how poetry is an excellent choice for memory work. No matter the age of the student, it is recommended that everyone begin at Level One. It might seem simplistic but older students will progress quickly.  Who doesn't enjoy hearing their seventeen year old recite Ooey Gooey?
Biographies, history tidbits, literary devices, poetic elements and more are included in an appendix to help expand the learning experience and understanding. Memory charts are included to help you track reviewing mastered selections while working on newer ones.  Once you advanced a level or two, you don't want to forget those earlier works!
A set of CDs accompany the Teacher's Manual and is a helpful addition to this resource. Each of the poems and speeches are read on the CDs. This allows the students to hear proper pronunciation and elocution. During our lunch has been a great time to play the poems we have mastered and are working on. Quiet time or traveling in the car are other great opportunities for quick reviews via the CDs. My younger ones recognized "that Pudewa guy" and he has been most helpful in pronunciation of author names such as Hilaire Belloc. The CD set also includes the Nurturing Competent Communicators conference talk by Andrew Pudewa on DVD. Such an encouraging talk on how to help your children to become effective communicators through the written word. I have enjoyed listening to this a few times; always focusing on something a bit different with each listen.
IEW also includes a few mp3s that you are able to download:
Mastery Learning, Ability Development, and Individualized Education
Ten Thousand Time and Then Begins Understanding
On Listening
On Speaking
On Reading
On Writing
These are great to download and listen to in the evenings or when doing a bit of school planning. I find that they help me refresh and refocus my mind on the goals I have in educating my children.  It has been years since I attended a homeschool conference so mp3s such as these allow me to create my own "mini-conference at home". A lovely bonus!
As the mom on a tight budget, I have always appreciated IEW's generosity in their including the Student Book as a free e-book download. The Student Book has each poem on a page and some include illustrations. My younger ones love to color these simple pictures and create their own personal poetry book. For my older ones, it allows for easy review and practice to have their own copies. And just in case a page gets torn or lost, replacing is simple and quick. **Please note: The Poetry Memorization set includes a free e-book download of the student book.  If you prefer, a printed spiral-bound hard copy can be purchased separately.
How We Used Linguistic Development through Poetry Memorization
As soon as Poetry Memorization arrived, my younger children were constantly flipping through the teacher's manual. My son, Sam (6), had me read every single poem in Level One. It took about five minutes and Ooey Gooey was memorized. Clearly, we were off to a great start.
My focus during the past several weeks has mainly been with my children 4 – 12. I do have three older children (17, 16, 14) who didn't officially participate in our poetry memory time. There was a bit of a scheduling challenge so for the sake of consistency for the review period, I let my older ones slide. (They will be joining us soon!)
In the morning we would gather together to work on the poetry. We reviewed poems that had been mastered and then tackled the next poem in line. My twelve and ten year old daughters moved at a faster pace than my younger ones but that was not a problem. Listening to the older ones recite newer poems is just extra exposure for the younger ones.
To help with retention in the beginning,  I printed pages for them so the younger ones could color the simple illustrations. But it was evident soon enough that they just enjoyed reciting the poems. I don't think I could have skipped our memory work if I wanted to!  The poems selected for Level One are fun and engaging. My children are a bit competitive so there might be a race to see who completes Level One first. I am not against a little friendly competition.
One of the benefits of this program for me was the ability to work with my children on proper pronunciation. I have one child who often drops or slurs the ending of words. Another child likes to talk as fast as possible. When reciting the poems, it is the perfect time to really pay attention to these small details which can become major issues. Since the atmosphere and mood is lighthearted and fun, it isn't discouraging at all for them.
I love how easy Poetry Memorization was to implement. It is simple and straightforward. And we are once again doing memory work that is so very important!  I love seeing how much my children are enjoying mastering these poems. My biggest surprise was by far my son, Sam, who is so eager to tackle memory work. Best of all? We are having a blast. There are not many mornings where our time with Poetry Memorization doesn't include laughter.
If you are new to memorization or need a bit of help staying focused, Linguistic Development through Poetry Memorization is a great resource.Don't take my word for it! Check out what other Crew Members are saying!