We are a family that enjoys a wide range of literature. Whether it is a picture book or a classic novel, we have stacks, shelves, and bags of books in just about every room. When Shiloh Run Press gave us the opportunity to read and review The Glass Castle by Trisha White Priebe and Jerry B. Jenkins, we were happy to add it to our list of current reads.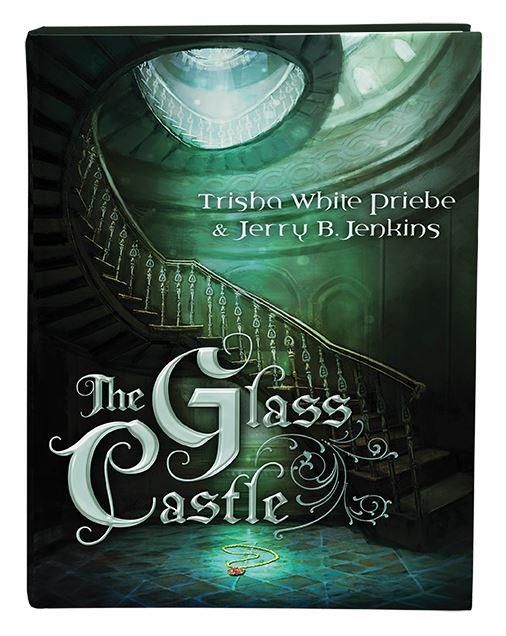 The Glass Castle is recommended for ages 10-14 and is classified under "action and adventure". I had initially thought that I would have my 10 year old and 12 year old daughters read this independently. But who doesn't enjoy a bit of adventure around the lunch table, right? So I chose to read this aloud during our lunches each day with it serving as my "younger people" read aloud. This meant that my main listeners were 12 and under. Just by nature of our home, the teens were often listening in as they joined us during lunch.

You can go to The Glass Castle website  to read the official book synopsis and even read Chapter 1 to get a feel for the story. However, for a more personal approach, I asked a few of my children to write their own version of a book synopsis. Here are a few book teasers for you:
"Avery, a girl who just turned thirteen, is kidnapped and taken to a castle. A castle that her dead mother told her stories about. Avery has lots of questions that she will uncover with or without anybody's help. Avery figures out the king knows nothing about the kids who are running HIS castle." Hannah – 10

"Thirteen year old Avery gets kidnapped along with her younger brother, Henry. She finds herself with a bunch of other thirteen year olds. All of them have to work as servants for the queen, trying to please her every wish. Avery's only concern is her brother, Henry, who she has not seen or heard of since she got taken to the castle."

Lydia – 12

"Avery was told tales of the Glass Castle by her mother when she was younger. She never thought she'd actually see it or enter it. When Avery and her young brother, Henry, are kidnapped, the Glass Castle is where Avery finds herself. Henry is missing and nobody will let Avery leave to find him. She is kept in the castle to work just like all the thirteen year olds. Avery is thrust into mystery trying to discover why she is there, where the king's heir is, what the future queen is trying to do, where her brother is, and why is her missing mother somehow a part of the castle's secrets?" Rebekah – 17
Our Thoughts on The Glass Castle
After reading the book synopsis, we were all ready for an exciting adventure as Avery and her friends discovered the secrets of the castle and fought for their freedom. Unfortunately, just a few chapters in, I realized that the pace of the book was moving a bit slowly. For us there wasn't much action and adventure. The majority of the book is Avery making it clear that she wants out of the castle, making decisions with disregard for the effect they will have on the other children, and her growing feelings for a boy, Tuck.
"It was slowish and they were too young for romance. The only reason for me to finish reading it is because I started it. I like to know what happened." Hannah – 10
We were a bit thrown off by the emphasis of romance in this book. Not only is there feelings between Avery and Tuck but another young man, Edward, makes it clear to Avery that half of the thirteen year old boys would love to be with Avery. Is any of the content inappropriate? No. But is it necessary? I think it actually pulled away from the potential to focus more on the "action and adventure" and would have been more suited to the targeted age range.
"I thought it was going too slow for me. The romance didn't need to be there. All the kids were scared or happy to be at the castle. None tried to escape or fight back. They all accepted the fact they were prisoners. I did like the plot idea: kids kidnapped by an evil queen trying to get power." Lydia – 12
The Glass Castle is the first of a series about Avery. Even with a series, you expect to end each book with a sense of completion and a hint of expectation. We finished The Glass Castle and felt dissatisfied with the ending. Other than Avery deciding to stay in the castle, there was no sense of completion to the story.
I do agree with my daughter, Lydia, that the plot idea was excellent. I think the story needed to focus more on the children actually attempting to change their fate instead of being so passive. More depth to the characters, not just Avery, would have helped to build some connections in the story as well.
Who Would Enjoy The Glass Castle
The Glass Castle is written in a manner that makes it appealing to children who perhaps are not strong readers or are not fond of reading. The chapters are short so it can be read in manageable chunks. For a child on the upper end of the targeted age range (14), the romantic aspect might be engaging. If you are compiling a list of easy, light reads for the summer, this could be a good addition to that list.
For parents who prefer to steer away from books containing magic, fantasy, violence, etc,  The Glass Castle is a "safe" read for them. About half way through the book, Avery begins to attend chapel (led by a fellow thirteen year old) and there are some references to God and scripture is quoted.
Other Crew Members also read and reviewed The Glass Castle. Take a moment to read a few reviews and see what other are saying about Avery and her time in the glass castle. Don't forget you can read Chapter 1 online!