When you look around my house, you will naturally see books, books, and more books. You will also find sketch books, drawing pencils, watercolors, and more all throughout the house. One of my daughters hopes to one day illustrate children's books so I am always on the look out for books, tutorials, and other resources to help her. ArtAchieve has allowed us to use and review their Entire Level 1 online art course and Lydia has been the primary student. I'd love to share her experience with you.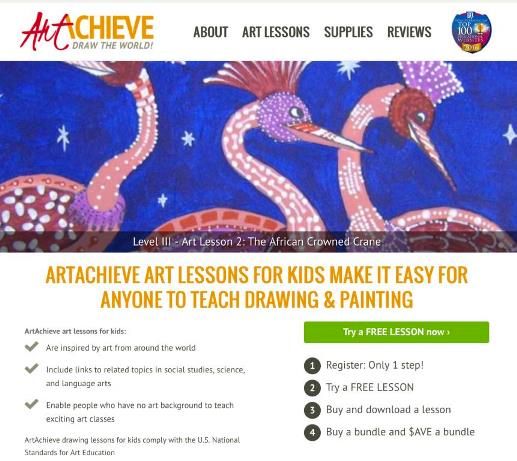 ArtAchieve
has five levels of art instruction available online. They do increase in difficulty and skill as you progress through the levels. We chose to go with Level 1 because the lessons were fun, we had all supplies readily available, and I could invite younger ones to join us at times. You can select any of the lessons at any level and learn more details about what that lesson will present to your student. Not only are supplies listed but also the approximate time the lesson will take to complete.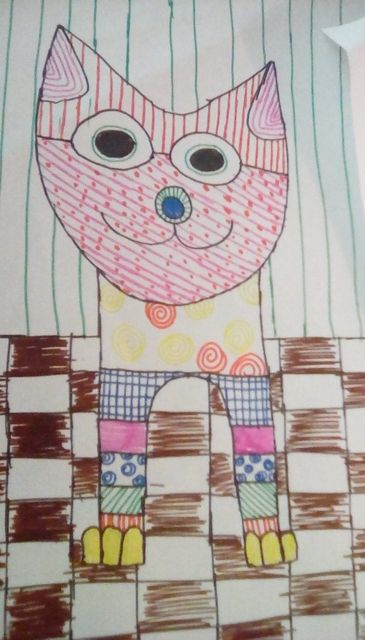 Another great aspect to the ArtAchieve lessons is that you can choose to dig deeper into the subject matter. In Level 1, Lesson 3,for example, is The Hungarian Insects. If you wanted to explore the subject a bit more, you are given links to resources that help you learn about the history and geography of Hungary. A list of picture books by Eric Carle on insects is suggested and a great way to showcase great art work. Science and writing suggestions are given as well. While we didn't utilize all these cross-curricula resources, it is nice to have that option.
ArtAchieve has FREE lessons available. The lessons on Simple Lines and Shading are beneficial no matter which level of ArtAchieve you begin with.
How did Lydia use ArtAchieve Level 1?
Initially, I had two of my daughters using Level 1 of ArtAchieve: Lydia, 12 and Hannah, 10. Hannah completed a few lessons if she found the picture interesting but Lydia was my devoted student who I really had in mind for this course. Lydia used this independently and most often worked on her art in the afternoons. She would look over the lessons to see what supplies she needed, find a quiet spot, and create a masterpiece. She usually completes one lesson a week. She has looked over the other levels and is eager to give them all a try.
I really liked using this course. Well, I didn't really enjoy the lesson on shading but it is an important skill to have. This would work really well for younger children as well because it is easy to understand. What you are doing is explained really well. The warm ups that you do are helpful and good practice. It was fun. Sometimes the videos were a repetitive in the beginning. And I didn't like the words on the screen being read at the same time. I can read faster and like reading it for myself. Lydia – 12
There were a couple of afternoons that some of my younger ones (8 and 6) wanted to create a masterpiece of their own. They would wait for Lydia to finish and then copy her work. With a bit of guidance and encouragement, I think they could work through Level 1 quite well.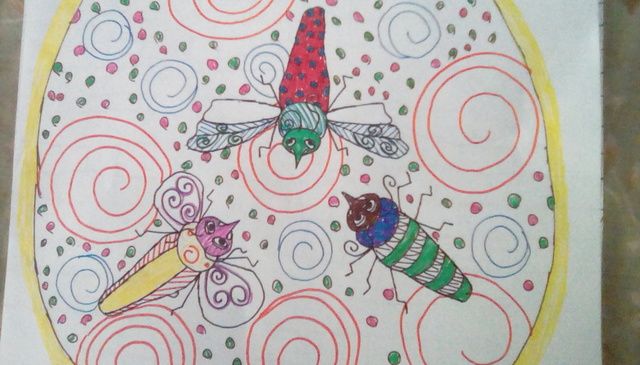 Final Thoughts
Overall, we were quite pleased with ArtAchieve Level 1.  The video instruction gives clear, easy to understand explanations. I loved hearing the instructor comment on how no two creations are going to look the same. This is your art. In a house with all of the children constantly drawing, sketching, and creating, we can easily find ourselves comparing our creations a bit harshly.
I appreciated the Warm Up activities for the lessons. I think they are really helpful for the student to get a feel for the lines, curves, and angles that will be used in the art work for the day. Very simple but very helpful.
Crew Members were able to review Level 1, Level 2 and Level 3 of ArtAchieve. So take a moment and see what others are saying about Art Achieve and the various levels of art instruction.