It seems that the current trend in the American education system is to begin pushing academics at younger ages each year. I am a firm supporter in the value of young children playing and exploring their world instead of sitting at a desk. However, as a mom with a wide age range of children, I have young ones who want to "do school" like their older siblings. While my four year old daughter does not sit down for formal learning each day, we do have opportunities for her to add to her knowledge in more structures ways.
Over the past few weeks we have been reviewing an early literacy resource from Talking Fingers Inc. Talking Shapes: A Supplemental Curriculum for Early Literacy is an online learning tool that gives exposure to young children (around 4 – 5 years of age) of letters, their sounds, and how those work together to form words, sentences, and stories.
**Please note that the above link takes you to the Talking Shapes: A Supplemental Curriculum for Early Literacy App. We did not review the app for this program but the online version.
Talking Shapes is a series of seven stories, told by two sisters, that introduces the 40 phonemes in the English language. To help children remember the phonemes, picture cues are used such as: cat for the letter C, hat for the letter H, and fox for the letter F. There are activities included to help with review and practice: drawing the letters, a game to recognize specific sounds/letters, and popping  balloons that match a word in the story.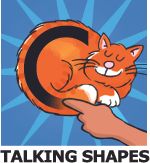 Our Experience with Talking Shapes
When we received Talking Shapes a few weeks ago, my initial plan was to have Martha use the resource two – three times a week for about 10-15 minutes. Martha is 4.5 and has had no formal literacy instruction. This seemed like a fun, low pressure way for her to become familiar with letters and sounds. Unfortunately we have had a few issues with the program that have hindered much enjoyment or learning with Talking Shapes.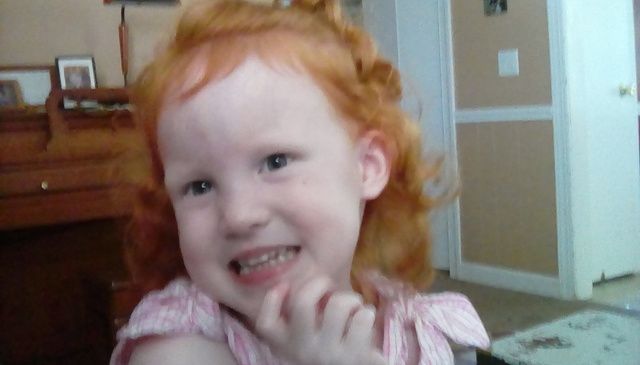 One aspect of the program is having the child draw the letters on the screen. A touch screen is recommended for this activity which seems a logical choice. I grabbed my Kindle Fire to pull up the online resource and it failed to load. I contacted Talking Shapes for tech support and was told:
"The Talking Shapes app will run on a desktop/laptop computer running MacOSX or Windows.  It will not run on mobile devices based on iOS or Android.  That's why it doesn't come up on your Android based Kindle fire."
Since the only touch screens we have in our home are Kindle Fires this was disappointing but decided we could work around that and still benefit from the program. However, we continued to have technical issues. After being unable to load Talking Shapes on my computer, it was recommended to install Chrome. Instead of installing Chrome on my laptop (which is a bit outdated and running on Vista), I used another computer in our home that already had Chrome installed.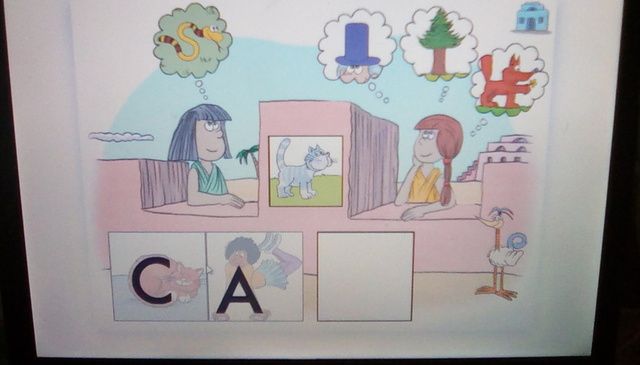 Every time Martha and I signed in to Talking Shapes it would take at least 10 – 15 minutes to load. I was concerned at first that it was an internet speed issue on my end but  it appears to be related to Talking Shapes. We are able to use other online learning resources, stream videos/movies, etc with no such delay time. It was a bit frustrating at first but I simply signed in and didn't call Martha to the computer until it had fully loaded.
Not being about to use our Kindle Fires made the drawing the letters portion of the program basically useless. In theory, you should be able to use your mouse to "write" the letters. While Martha does have excellent fine motor skills for her age, she found writing the letters with the mouse difficult and frustrating. It didn't take us long to learn that if you wiggle the mouse around enough, the letters will fill in without you actually "writing" them. Since this portion of the program wasn't really usable for us, we opted for writing letters on the dry erase board.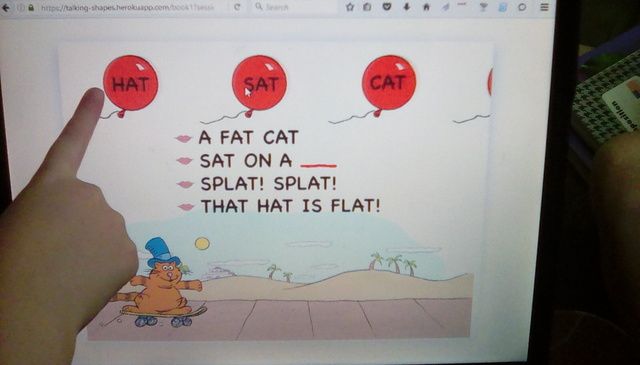 We still listened to the stories and used the other activities. Martha enjoyed having her own time to do school.  Since our goal was exposure to letters and sounds and not mastery, I think that goal has been met despite our glitches. If you are interested in using Talking Shapes: A Supplemental Curriculum for Early Literacy, I would recommend contacting Talking Fingers to make sure it will work with the computer devices in your home. Also make sure to read other reviews from Crew Members to get a broader picture of this resource.