In our homeschool, one of my weak areas is foreign language. Despite taking three semesters of Spanish in college, I can barely greet you in Spanish. Let us not even discuss my accent. Needless to say finding resources and curriculum to help my children experience, enjoy, and master a foreign language is important. When I heard that Armfield Academic Press has a foreign language resource, Getting Started with French, I hoped that it would be a helpful tool for my daughter, Mary, a high school junior.
Getting Started with French is a beginning French resource that works well for self-teaching students of any age. Whether it is used by a homeschool student like my daughter or an adult with a desire to learn French, anyone can quickly and easily put this program into practice.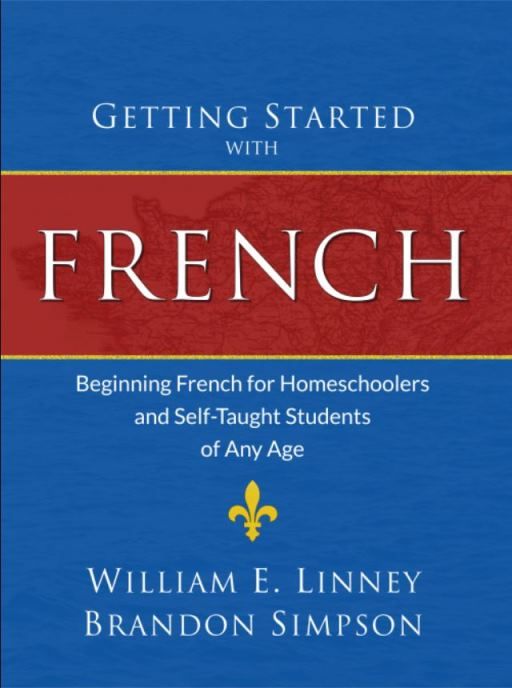 Armfield Academic Press has other foreign language resources: Getting Started with Spanish, Getting Started with Latin,and soon they will have Getting Started with Russian.
How to Use This Book
Before handing Getting Started with French to my daughter, I did a read through on the "How to Use This Book" section at the beginning. This gave me a clear understanding of how the program worked and confirmed that my daughter could use this independently.
The set up is broken down into daily lessons that introduce new words, offer grammatical information, and translation exercises. One of my favorite aspects of this program is the free audio files that you can download. Being able to hear the correct pronunciation by a native French speaker is so helpful! My daughter found that the audio files were clear and easy to understand. She also noted that the pace or speed of the speaker was helpful.
The goal of Getting Started with French is mastery so you are encouraged to work on the lessons daily but to take time to review as needed. Practice speaking with your family in French or translating English text into French are great ways to work on review and repetition.
One way my daughter worked on review and repetition to build mastery was to utilize classic children's literature. Our library had a few books such as Goodnight Moon and The Three Little Pigs available in French. We checked those out and she practiced translating the words into English. It was a bit more challenging than expected but a fun way to practice what she was learning.
Getting Started with French offers flexibility for your style of learning and setting your own schedule and pace. While the presentation is simple and user friendly, it is an effective approach.
You can preview Getting Started with French to get a feel for how the program is set up.
Mary's Thoughts
Since Mary works independently I have very little interaction directly with this program but discuss what is being taught with Mary to keep an eye on her progress. Here is what she has to say:
I found Getting Started with French very easy to use. Since it can be used by all ages, I was worried at first that it might be too simple and not challenging or helpful. But that wasn't a problem at all. It encouraged you to take your time and to not rush. It was very easy to understand the lessons and what was being taught. I found it very helpful in understanding the masculine/female gender usage and the pronunciations guides were very helpful for me. Mary – 16
Overall we are both very pleased with this program. I love the approach used and that Mary can work on it independently. Being able to set her own pace and schedule is a huge plus for Mary. She likes the flexibility that it offers.
As a homeschool family with a wide range of ages, I love that it can easily be used by different ages. I have Getting Started with Spanish on my to buy list. I think it would be a great addition to our Group Learning and be a fun family learning experience. Maybe I can finally get the proper Spanish accent?  Oh, and it is a non-consumable resource which is always a huge plus for our family. Just give everyone a notebook and we are set to learn a foreign language or two!