*This blog post contains a product review. A disclaimer is provided.
Recently, I was contemplating our curriculum and how to best handle the study of history in our family. One aspect of that was I had a child now entering the high school years. Notgrass Company came up again and again as I researched my options. Not only does Notgrass Company have resources for high school but the lower grades as well. For the past several weeks,my eight grader has been enjoying America, the Beautiful.We also had the option of the Student Workbook or Lesson Review; she chose to use the Lesson Review.
Notgrass Company produces curriculum resources for elementary – high school with a biblical worldview. The Notgrass family, as homeschool veterans, can fully understand the needs of parents seeking well-rounded, biblically grounded and thorough curriculum. They offer resources in art, history, government and more.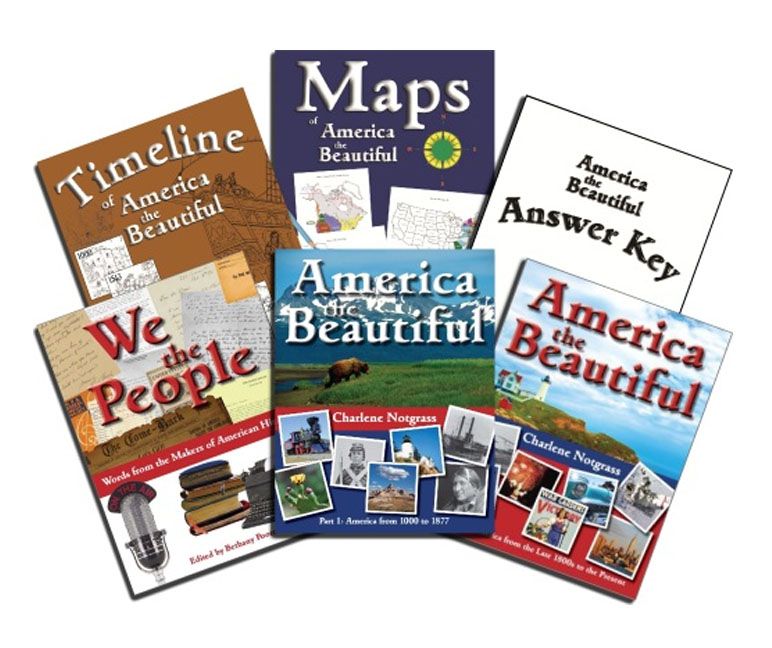 America, the Beautiful is an American History course that is designed for ages 10 -14 but you could easily flex a year or two in either direction with some adjustments.  With two main textbooks, which include 150 lesson, your child will cover American History from Native Americans before European settlers to present day. Other resources that were included in the America the Beautiful Curriculum Package were: We the People, Maps of America the Beautiful, Timeline of America the Beautiful and an Answer Key. There are two optional books not included in the package: Student Workbook and Lesson Review. Depending on your style of teaching, one or both may work for you. Ten works of literature are also a part of the program.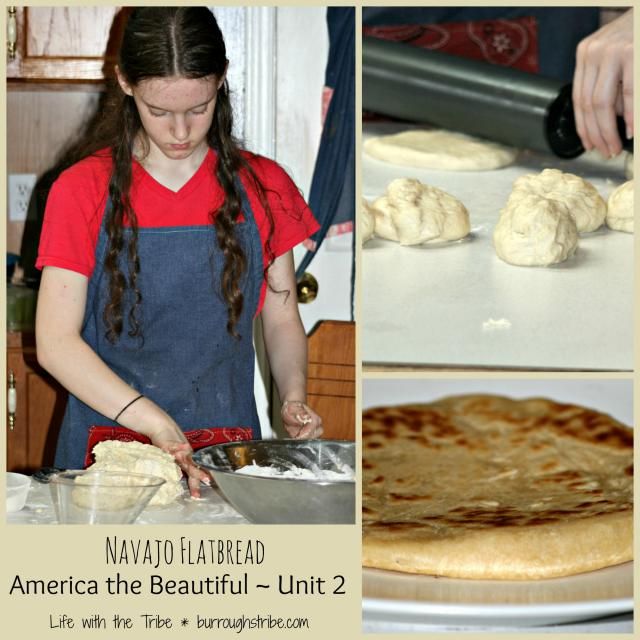 How Does America the Beautiful Work:
The foundation of this American History study is the two textbooks. The two hardbound volumes present clear photographs and several pages of information on the focus of that week's study. The layout is familiar textbook fashion. Notgrass Company does a lovely job of presenting the facts and drawing the student back to God's Word.  There are five lesson per unit. The lessons fall into one of the following categories: Our American Story, God's Wonders, An American Landmark, An American Biography, and Daily Life.
At the close of each lesson, instructions are giving for other activities that coincide with the lesson. You may select one or two options or have your child do them all. The activities are:
Thinking Biblically: The student is directed to copy scripture or read a passage of scripture and apply it to that lesson's topic.
Map Study: Utilizing the Map Resource Book, your student will label or color appropriate locations on a collection of thirty maps designed specifically for this program.
Literature: Literature will pull from either the We the People resource or a book of fiction such as Homer Price or Across Five Aprils. The fictional books that are used are all ones we could easily pick up at our library.
Timeline – Timeline of America the Beautiful is a timeline with pictures throughout the books along with pre-printed entries. Some portions are left blank for your student to fill in. A sentence to copy onto the timeline is provided.
Lesson Review/Student Workbook – The Lesson Review provided review questions for each lesson that your child can answer. Depending on your child's ability it could be written or oral.  The student workbook contains crosswords puzzles, code puzzles, multiple choice and more.
Creative Writing – Not every lesson includes a creative writing assignment. Assignments range from writing a poem to writing a letter to your grandparents telling them about your adventures while moving out west.
Vocabulary –  A list of words is given for the student to define that coincide with the lesson.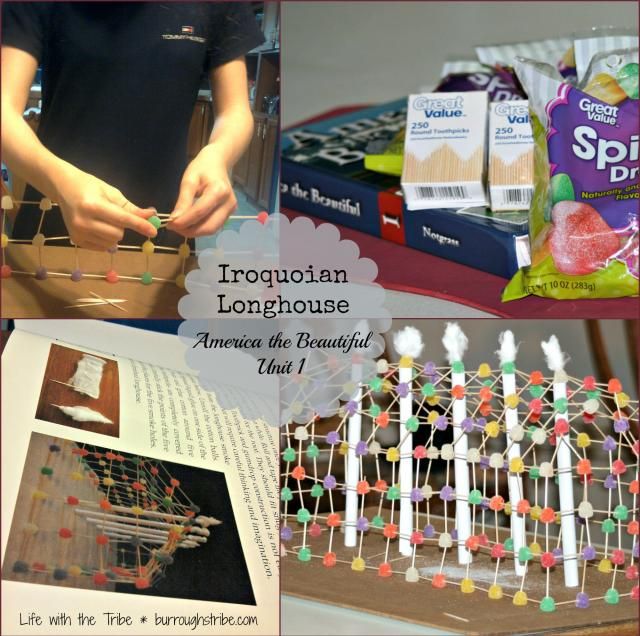 Lessons can be completed in one day (five lessons per week); taking approximately 45-90 minutes depending on the extra activities chosen. Naturally, you know your child's abilities and interests, so you can adapt the lesson to your needs. Allowing two or three days per lesson and letting the course take longer than one year to complete is one option.
At the end of each unit (5 lessons) there is a Family Activity that relates to the time period that has been studied. The Family Activities range from dancing the Virginia Reel to cooking flat bread. The activities require simple, inexpensive items.
You can Learn More about America the Beautiful and view samples of items (just click the highlighted text).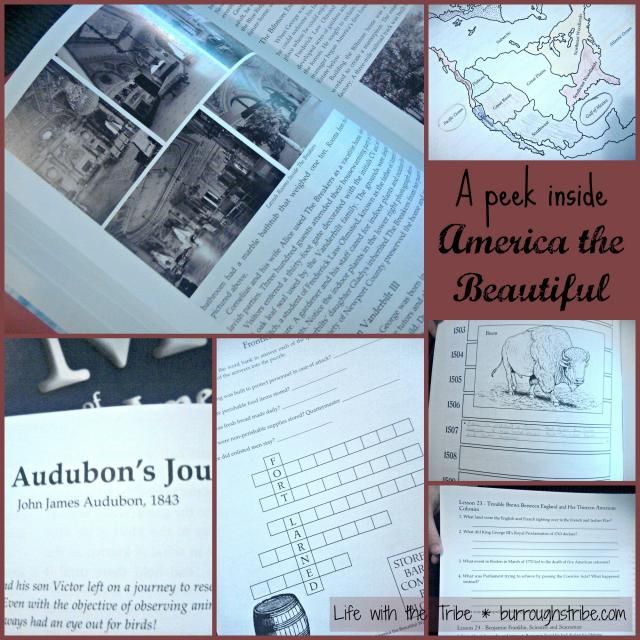 How Did We Use America the Beautiful
The timing of this review was perfect. My 13 year old daughter was struggling with history. She was feeling overwhelmed with the method we were currently using and I did not want her to begin to dread history. America the Beautiful seemed to be the perfect answer.
My daughter is very independent with her school work so after explaining how the curriculum worked and discussing a few things, she took the books and ran with it. She has set her own pace and is moving quite well through the book. The information is clearly laid out and instructions are very simple to follow.
As a family our studies lined up with Book 2 of the America the Beautiful program but Mary chose to begin with Book 1 and have a bit of review. Since we are not using this course as a family, Mary completed the "family activities" at the end of the units on her own with a little helper now and then.  Mary found the workload easy to manage and the nature of the activities were not exactly challenging. This was not surprising as she is on the high end of the age range. I would check in with her each week to make sure she was progressing.
Our Thoughts
Mary enjoyed the presentation of the facts. However, she does miss the literature that she was accustomed to in the past. While America the Beautiful does incorporate literature, a book is spread out over several units. Some selections are beneath her reading level and not of interest to her. Her biggest struggle in the past was handling the non-fiction portions of our history studies and America the Beautiful textbooks has solved that issue. Having the pertinent information clearly laid out has allowed her to enjoy history and digging deeper in the parts that really draw her interest. As she continues through this course, she has requested more historical literature to round it out.
I was a bit disappointed that for areas such as the timeline so much was already completed and direct entries were given. Not much thought is required of the student for these tasks. While I am sure it is great for younger students, by age 13 and 14, I think having an option for a blank timeline would be preferred.
America the Beautiful is not my normal style of teaching history but it has work well for Mary. As our children get older, I think it is important to let them have a voice in their studies. It is an excellent textbook that we will be using as a spine for Mary's history studies. It allows for her to get the basics of a topic of study and we can build on it from there; adding in literature and spending more time on each lesson.
America the Beautiful is well done, engaging and bibilically based. With a variety of activities, any learning style could be met.  It would also work well as a spine text that is the foundation of your American History studies; helping you to keep a steady pace. Depending on your student's workload, you would definitely have to pick and choose activities or allow longer for lesson completion.
America the Beautiful Purchasing Options:
America the Beautiful Curriculum Package includes: 2 hardbound textbooks, Maps, Timeline, We the People resource text and Answer Key – $99.95  For each additional student separate Maps – $8.95 and Timelines – $6.95 would need to be purchased
Lesson Review – $9.95 and Student Workbook – $11.95 are not included in the package but are an inexpensive addition.
Notgrass Company provides plenty information and samples! Also other members of the Schoolhouse Review Crew have been using America the Beautiful in their homes. See how it work for them! Not looking for history? Notgrass has other resources as well!