One of my favorite past times is snapping pictures of my family.  No special occasion is needed. No exciting location is required to be the backdrop. From kiddos cuddling on the couch to conquering unknown lands outdoors, I always am ready to snap a picture or four hundred. We all love looking back at pictures over the years and re-living the memories.
Guess what? The pictures of me, the mom, are few. I'm behind the camera and I like it there.  I have never been a fan of having my picture taken. This fact has only become more firmly planted in my mind. The camera doesn't lie. It shows that I'm not as thin as I would like, that my hair could use a trim, that my teeth aren't perfect and wow, I don't look twenty anymore!
"Do not let your adornment be merely outward – arranging the hair, wearing gold, or putting on fine apparel – rather let it be the hidden person of the heart, with the incorruptible beauty of a gentle and quiet spirit, which is very precious in the sight of God." 1 Peter 3: 2-4
Or does the camera lie? My husband calls me beautiful. He is wearing his glasses when he says it. He means it. He believes it. When he tells me, I believe it, too. When he tells me I'm beautiful, I am. When my children look at pictures of me, they don't see the wrinkles or the few extra pounds. They see mommy. The one who loves them, reads to them, laughs with them and is always taking pictures. Giggle.
"I will praise You, for I am fearfully and wonderfully made; Marvelous are Your works, And that my soul knows very well." Psalm 139:14
What a tragedy it would be, if I was so selfish and insecure that I kept them from having pictures of me. Pictures they can look back on with grandchildren and share stories of their lives.
It isn't easy. I have to constantly remind myself to hand over the camera. To relax and smile. To stop worrying about perfection. I still don't do it as often as I should.
As hard as it has been for me, I am glad that I have been encouraged to come to the other side of the camera. I love looking back at pictures that show my children and me together.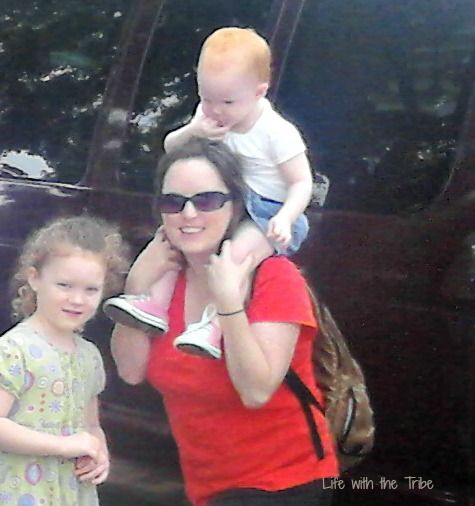 Join me. Come to the other side of the camera. Smile. Make a funny face. Strike a pose. Get a snapshot of a memory. You are beautiful, mom. You are. Say cheese!