Instilling in our children a love and desire for reading the Bible and memorizing Scripture is very important. Over the years we have incorporated Bible reading/study and scripture memory into our "group learning" times. This past year I made the decision to have a separate Bible time for my younger children. While we still read and study as a family, there were some basics I wanted to make sure my younger ones understood. We have been using resources from Grapevine Studies that have worked beautifully as we learned more about Jesus and the Resurrection. Over the past few weeks, we have been using The Resurrection – Beginner Student and The Resurrection – Beginner Traceable.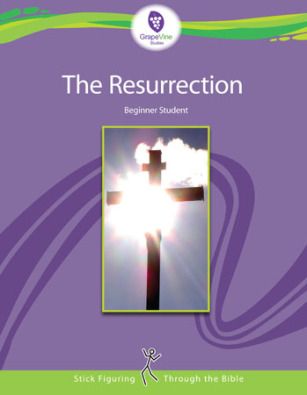 Grapevine Studies offers a wide range of Bible study resources for the whole family.  From the Traceable books for ages 3 and up to Level 4 (ages 13 and up), you can bring all your children together to study and memorize Scripture. They have a selection of Topical Studies such as: Biblical Feasts,  Birth of Jesus, and the Resurrection. Or you could choose to study Creation to Babel or the book of Ruth.

Grapevine Studies incorporates stick figures to help children of all ages remember what they are learning in God's Word. No one needs to be an artist to sketch out a quick stick figure! Children learn through a variety of ways, so Grapevine's "Hear-Draw-Review" formula works great. You read scripture, sketch out a quick stick figure drawing, and then discuss what you learned. Grapevine also incorporate timelines, Bible geography, and Bible study skills as the levels progress.
How We Used Grapevine Studies
Since this was our first experience with Grapevine Studies, and we were adjusting to a new schedule, I opted to use The Resurrection Study with just a few of my younger children. My younger crew is comprised of ages 8, 6, and 4.  We had been studying and learning about who Jesus was and what He has done for us. As we are approaching Resurrection Sunday, I knew that The Resurrection Study would weave in perfectly during our Bible time.
I opted to do The Resurrection Study three days a week and that has worked beautifully. This study is very simple and easy to implement; definitely an open and go resource. Each week there were four lessons. For the lessons there was a short scripture reading, a bit of scripted discussion provided and then an example of the stick figure sketch.  A memory verse was also given for each week. For this younger group, the memory selections were one verse that they could easily manage to recall. At the end of the week there were words to look up in a Bible dictionary and a few lesson review questions.
I didn't find the scripted discussion necessary as we are in the habit of reading and talking about what we read. I am sure in the higher levels that having a bit of information provided could be helpful. If you are looking for resources for older children, make sure you check out the sample pages at Grapevine Studies!
I like it. It is fun to do and I have my own binder. I liked learning about the Bible.  Sam – 6
There are 9 Lesson (or weeks) of study in The Resurrection Study. It begins with The Last Supper and finishes with Jesus Went to Heaven.
My four year old daughter has been using The Resurrection – Beginner Traceable. This is a great resource for those younger ones who might need a bit of help.  Each lesson has a light, traceable outline of a stick figure that represents the lesson. Martha loved her Bible study pages. Each day after we read our scripture and chatted about the lesson, she carefully selected the color of the day to trace her stick figure.
My other two children (8 and 6) used The Resurrection – Beginner.  With this book, there is a blank box for each lesson. This is where they sketched in their stick figures for the daily lesson. When it was time to draw, I made a sketch on the dry erase board as an example for them. However, they were free to make the stick figures their own by using color or adding a bit of detail. When we were learning about Jesus in the Garden of Gethsemane, my son wanted to add a tree. It helps him to remember that it was a garden so that is great! We did keep the drawings very simple.
It was actually really nice. I like studying the Bible and learning about Jesus. Since I like to draw, I like doing the drawing the people. Sarah – 8
Sarah, 8, would have benefited more with the Level 1 instead of the Beginner. This was completely a mistake on my part! She definitely learned much and enjoyed using Grapevine. Being the "oldest" during this Bible study time allowed her to be a great help to her younger siblings. To make up for my error, I have been having some deeper discussion with her on what we are learning about Jesus and encouraging her to do some reading on her own.
I learned about Jesus tied up. He went to all those houses. I like it. Martha – 4
I have really enjoyed using The Resurrection Study. It has added to our study of Jesus and was very simple to incorporate. There is no doctrinal or denominational stance promoted in the material. Scripture references are given not scripture text. So children must pull out those Bibles and search out the Word. This eliminates any issues with varying translations.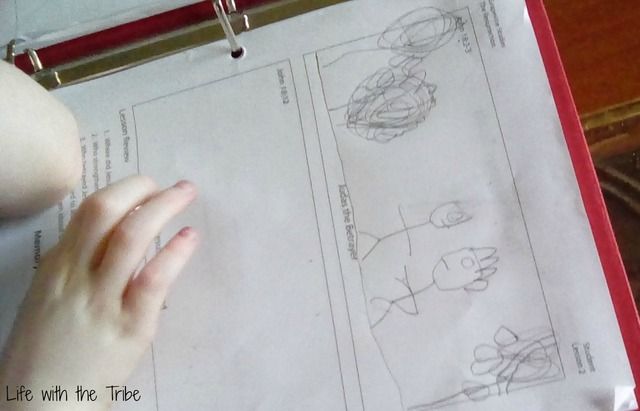 Another fact I appreciate about Grapevine Studies is you have the option to buy a physical hard copy of the books or you can purchase e-books. With nine children, I love the budget friendly option that ebooks provide for me. (Family Student eBooks can be copied for immediate family; a Classroom License is also available). The teacher book is color coded and I only have access to a black and white printer. I simple converted my PDF to Kindle and viewed my teacher pages on my Fire. This saved on printing and allowed me to have the color.
We have really enjoyed The Resurrection. I know my younger ones are gong to miss it when we finish this month.
Other Crew Members reviewed The Resurrection at varying levels as well as New Testament 1. If you have older children, take a moment to see how the higher levels of Grapevine Studies worked for other families. There is also a wealth of information and samples at Grapevine Studies.
**Grapevine Studies is a great family Bible study but would also work well in a classroom setting such as Sunday Schools and Co-ops!**