Our recent read aloud sessions have had a new book in the stack from Barbour Publishing – Diary of a Real Payne Book 1: True Story by Annie Tipton . We are always on the look out for a good read aloud and were happy to venture into the world of EJ Payne.
What is Diary of a Real Payne Book 1: True Story About?
Emma Jean Payne, just call her EJ, a ten-year-old (with an imagination that is out of this world) is stuck in Spooner, Wisconsin. EJ is sure that she is destined to do great things – when she is older and no longer held back by Spooner. Throughout the book we see EJ having to face big struggles for a ten–year-old: a mean classmate, a dreaded teacher, a five-year-old brother and starring as the lead angel in the Christmas Pageant. Lead angel? For All-Star Converse wearing EJ, this could be the biggest tragedy of all – wings, halo and glitter!
Inside Scoop on Emma Jean Payne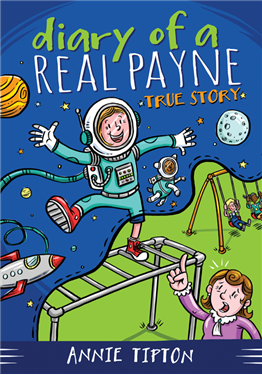 This book is written in a very fun style. At the beginning of each chapter is a diary entry by EJ. It gives you an inside peek at what EJ is thinking and a hint at what might be ahead in the chapter. In chapter 11, while EJ mentions being on laundry duty that Saturday, she is also intrigue by Marine One – the helicopters that fly the President. What if one day she could pilot the Marine One?!!? Guess what happens? While dealing with the tedious task of laundry, EJ imagines that she is readying for a flight of Marine One. As often happens when EJ is imagining, she gets a bit carried away. Suddenly she is preparing for a crash landing in water and soapsuds. It never fails that EJ's imagination often lands her into a tight spot. From the store to the school playground, EJ hasn't quite learned how to temper her daydreaming.
Throughout the chapters, we also see EJ mature in her relationships with others. That grouchy neighbor that no one likes? She realizes that he is a widower who misses his beloved wife. With a bit of kindness and hospitality, EJ sees that there are often surprises in the grumpiest of places. CoraLee, the classmate who seems to look down at EJ, isn't having a perfect life either. To EJ's surprise, the one thing she hated most, being an angel, allowed her to do great things in little Spooner, Wisconsin!
Our Thoughts on Diary of a Real Payne
Diary of a Real Payne is recommended for ages 8-12. We read it aloud as a family and it was enjoyed by everyone. My seven and ten-year-old enjoyed it the most so the age recommendation is accurate. It never failed that at some point in the reading, someone would giggle or laugh. With children who have great imaginations, they could enjoy EJ's daydreaming and how it sometimes got out of hand.
If your child in this age range is an average reader, she could easily manage this book on her own. With 192 pages, the book wouldn't be overwhelming at all. While not intended to be "girl book", some boys might be put off at first. However, they might find they are pleasantly surprised at enjoying EJ's story.
While overall, we enjoyed this book, there were a couple concerns. One, EJ's day dreaming often resulted in store displays being hit, the washer overflowing and a bald spot in her brother's hair. While EJ was frequently encouraged to curb the day dreaming a bit, there were never any real consequences to her actions. When she cut her brothers hair, they hid it from their mom. When the washer overflowed, her dad discovered her and the soapsuds and mislead the mother on what happened. These events might seem small but I don't agree with encouraging deception at any level. Even my older children noticed and commented on this.
Secondly, I have eight children so I'm well aware of issues between younger and older siblings. We have days were there are issues of a younger one annoying an older sibling in some way. However, name calling and such is not allowed. While I want books to depict family life realistically, I'd have loved to seen the parents step up and nip the attitude.
Again, this was a fun story. We loved EJ's imagination, appreciated her struggles and rejoiced in how she was able to use what she hated the most to do great things. A few of mine were excited to learn that EJ will return in Diary of a Real Payne Book 2: Church Camp Chaos.
Interested in reading Diary of a Real Payne? You can check out a chapter here.
Diary of a Real Payne Book 1: True Story is available from Barbour Publishing for only $4.49.
Other Crew members joined me in reviewing this book, check out what they have to say!