A few years ago, I had the pleasure of reviewing the 225 e-book collection from Yesterday's Classics. From history to literature to science and nature, this massive collection is full of engaging reading. With selections for your young readers to high school students, there is something for everyone in this collection. The 225 collections of books can be purchased in either epub or Kindle files; whichever format suits your needs.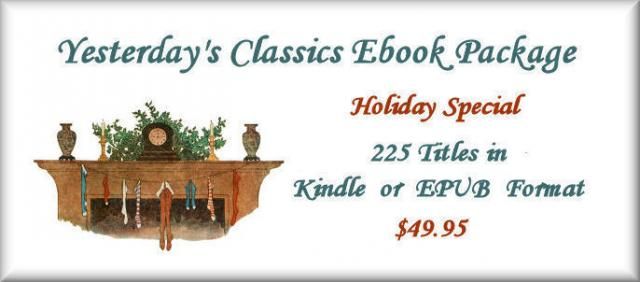 Yesterday's Classics has a holiday special running until December 31st which makes this collection available for only $49.95.  Do the math! That is a great deal.
What will you find in this selection?
The Struggle for Sea Power (World History)
The Awakening of Europe (World History)
Wild Animals I have Known (Nature)
Among the Forest People (Nature)
Our Island Story (British History)
Tales from Shakespeare
The Pilgrims Progress
Poems Every Child Should Know
The Story of Europe (Middle Ages)
Men of Iron (Middle Ages)
A Book of Discovery (Renaissance)
The Story Book of Science (Science)
This Country of Ours (American History)
English Literature for Boys and Girls (Literature)
In the Days of Queen Victoria (Biography)
And so much more…….
If you use a curriculum that utilizes living books, you will love this resource. Ambleside Online, Tapestry of Grace, Living Books Curriculum and more use many of these books as the core of their studies. If you use textbooks for learning, this is a great way to add in extra reading to broaden the depth of your studies. Enjoy!
**Please note that this is not a product review or sponsored post. Just sharing with you a resource we use and enjoy.