There is no secret about my family's love of games. We are not picky; we love them all.  Board games, card games, serious games and hilarious games are stacked on the shelf and we are always looking for more. While some of my children are familiar with the game of chess, we all have room to better our understanding and skill.  I was excited to review the Starter Chess Learning Kit from Chess House.
What is the Starter Chess Learning Kit?
The Starter Chess Learning Kit is suitable for all ages and comes with the following items:
A sturdy canvas bag that holds the complete kit.
Elliot's Chess School DVD 1 – Pawn Level introduces the basics of chess
Game Pieces – Plastic pieces measuring regulation size.
Vinyl Game Board – 20″ x 20″ board that easily rolls out and lays flat. Backing is non-slip.
How Does it Work?
As soon as your Starter Chess Learning Kit arrives, your family can immediately begin enjoying chess. You want to begin by watching the Elliot's Chess School DVD. The DVD covers ten topics that walk you through the basics of chess. The ten topics are:
Intro to Chess
Pawns
Rooks
Bishops –
Queen
King
Knights
Castling
Pawn Shields
Development
Elliot does an excellent job of engaging his audience and instructing you on each topic. Using a physical game board in front of him, as well as a computer animated screen, Elliot walks you step by step with each piece of the chess board. Not only will you learn what each piece can do but also what makes that piece special. Those little pawns? They are so very important. Don't underestimate those little guys!
Each video segment is concise and lasting about 10 minutes each. Varying age levels can all benefit from watching the video segments. In our home children from age seven to thirteen watched the Elliot DVD. All of those children were able to understand and implement what they learned. The DVD is really well done- simple but effective.
Learning doesn't end with just watching one of the video topics. A booklet is included with the DVD that gives exercises to put into practice what you learned. This is a fun way to immediately allow your children (or you) to get some hands on reinforcement. There are two or three exercises given for each level.
For example, after watching the first topic, Intro to Chess, there are two exercises to show what you know. The first exercise is a race to set up the board. Each player tries to be the first to set up all their pieces correctly. The second exercise is a bit more challenging. Each piece is given a point value. A number is called out and the players combine pieces to create that number. Not only do they have to know their pieces but quick thinking and math is involved as well!
In Topic Seven, Knights come into play.  After watching the purpose and use of knights, it is time to put the Knight against the pawns. One player has one Knight against the other players eight Pawns. Or you can play Knights and Pawns. Each player has two Knights and eight Pawns. Who can capture the opponent's Pawns? Who can get the most points? The third option at this point is to play the first full game – all pieces are now in play!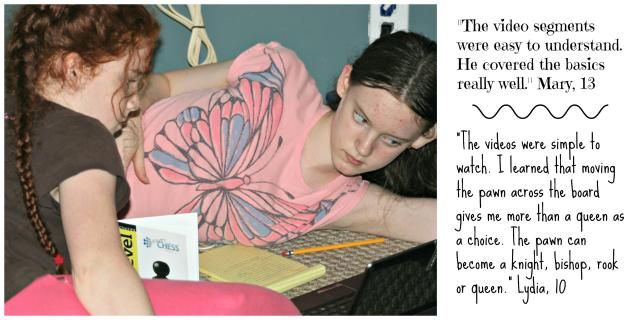 What Did We Think?
We had two different levels of chess players in our home. Older children knew the pieces and how they could move on the board. Playing a bit on the computer or with a friend occasionally was all the experience they had. Understanding the nuances of each piece and how to use them strategically was their weakness. Then we have my younger children; mainly the seven and ten year old. They only knew a few pieces and had little to no playing experience.
All of the children benefited from watching Elliot's Chess School DVD 1. They all learned different things and chess is now constantly in play around the house. Everyone was eager to watch the DVD and "play" the exercises. There have been a few tense moments when game play gets close toward the end but much is being learned. Slowly but surely the younger children are becoming more of a challenge to beat.
I know this has happened at your house. Children are in the middle of a game and someone accidentally hits the table and the game pieces go flying. With the vinyl game board with no-slip backing there is no worry over the pieces being shifted. The canvas bag for game storage is great. It makes it very easy to take the chess board with you wherever you go. Lose a piece? Toddler decides to play with the pieces and one disappears into the Land of the Unknown? No worries! Replacement pieces can be purchased easily at Chess House.com.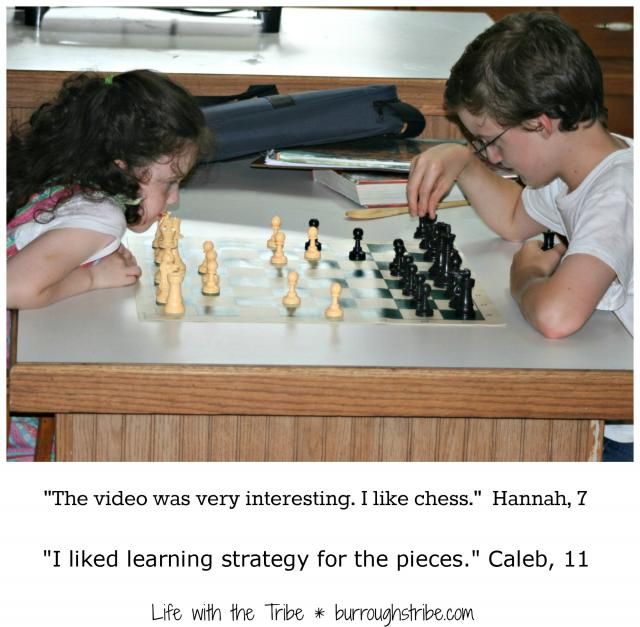 The Starter Chess Learning Kit definitely gets a Tribal Thumbs Up. Easy to use, effective and fun – what more could you ask for? It provides everything you need to give your child a solid foundation in the game of chess. We are looking forward to many years of enjoying and sharpening our chess playing skills.
Pricing and Purchasing Information
Starter Chess Learning Kit is available from Chess House.com for only $39.95. This is a reasonable price for a complete learning kit.
Once you have completed Elliot's Chess School DVD 1, there are other levels available to continue building your game skills. Chess House also has a wide selection of chess related products from game clocks to books.
Other Crew members were able to review the Starter Chess Learning Kit. Stop by and see what other are saying!