Since we homeschool year round, school planning and preparation are always a work in progress. To keep myself focused, refreshed, and informed, I enjoy reading a variety of books and resources to create an "at home homeschool conference". A few years ago I  read The Core by Leigh A. Bortins, founder of Classical Conversations. As a mom with two high school students and another soon to begin, I was eager to read and review The Conversation: Challenging Your Student with a Classical Education.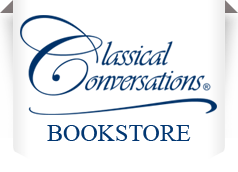 The Conversation addresses the educating of our high school students utilizing the classical approach. The book is broken down into three parts: High School at Home, The Rhetorical Arts, and Appendices. Whether you are preparing to begin the high school years or deep in the trenches, the first part will serve as an encouragement to you to press onward. As we transition with our children into this area of higher learning, our focus turns to authority, habits, and content. The responsibility of learning and engaging shifts to our students.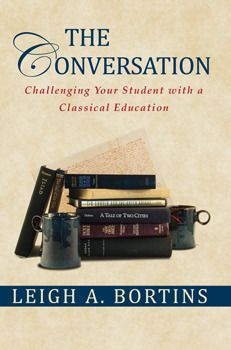 For the various subjects studied during the high school years, Bortins, in the second part,  uses the five canons of rhetorical learning to provide a guide or form to follow. The five canons are: invention, arrangement, elocution/style, memory, and delivery. Each chapter addresses different subjects and practical advice is given so that you can clearly understand how to implement the five canons. Whether you are familiar with the classical approach or just learning, the style of writing is easy to understand. After the first reading, it would serve as an excellent resource for a refresher now and then.
We must concentrate on training students in the art of asking good questions so that they can participate in lively conversations about big ideas. The Conversation
The final sections is the appendices. This is a very concise section but has an excellent resource: Conversation Games. With family, a group of friends or in a co-op setting, these games are excellent for sharing great conversations. Speech Thief is one I think we will enjoy. Who wouldn't enjoy sharing passages from a piece of literature and being able to steal "speech time"?
In earlier generations, people carried commonplace books to record important or well-expressed sentiments. Recording these thoughts was a way of showing that the thoughts now belonged not just to the author but also to the reader…. The effective rhetorician has read widely and memorized many examples and sayings so that she can properly bring them into persuasive speech, speech that serves to comfort or to counsel or to confront. This is wisdom. The Conversation
Do you have to be a classical homeschooler to benefit from The Conversation? Definitely not. We do incorporate some aspects of the classical approach in our homeschool. I appreciate many aspects of this approach and it flows beautifully with the method that guides our studies. For me, The Conversation was an encouragement that I am capable of guiding these young adults.  It gave me some ideas that I would like to implement and I believe will provide a richer experience for my children. I will definitely keep it as a resource to refer back to as I continue to add high school students.
Other Crew members read and reviewed The Conversation. See what they are saying!