*This post contains a product review*
Becoming fluent in a second language can be of great benefit in career and ministry. While Spanish is more common as a second language in our area, we were happy with the opportunity to study and learn French. French Essentials offers an online French course that provides a comprehensive study of the language for grades 3 – 12. We  have been using French Essentials Full Access Online Program.

French Essentials offers these basic guidelines to aid in placement:
Grades 4/5 – 7/8 – Module 1-5

Middle School ~ Grades 8-9 – Modules  5 & 6

High School ~ Grades 10-11 – Modules 7 – 10
What is French Essentials?
French Essentials is a complete French curriculum that you download to your computer. There are online aspects such as culture, online quizzes, test and other exercises. The course is broken down into modules. Modules 1 – 5 are currently available and Modules 6 -10 will be available soon. Each module is broken down into lessons.

There are a few basic computer requirements such as Adobe Reader and Adobe Flash player. You can read more details about these requirements at French Essentials FAQ page..
How Do I Use French Essentials?
One you have purchased the program, it is very simple and straight forward to use. If you are not sure of your student's abilities, there is a placement test available. The first step is to go the appropriate module and begin with lesson one. The lessons need to be downloaded to your computer. The lessons have links within them that provide audio and video. Written exercises are available that need to be printed.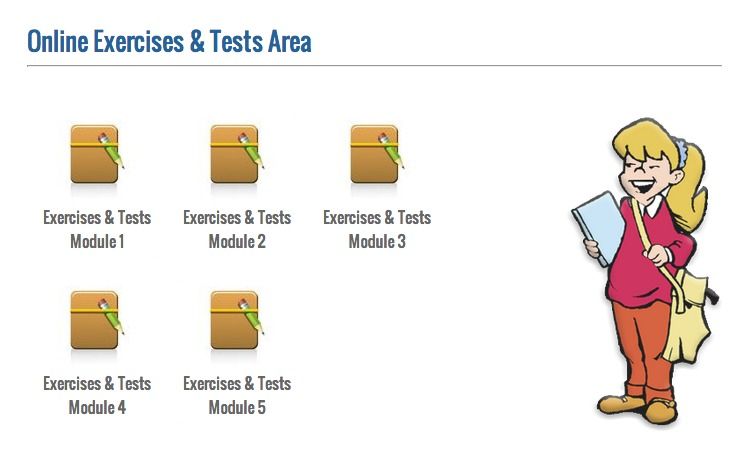 Throughout the modules there are tests and online exercises. The online exercises are flashcards. French on one side and English translation on the other. There are options on how to use the flashcards such as different games and speeds. The tests are a combination of fill in the blank and multiple choice. The test is taken online.
One other aspect of French Essentials is the Culture section. The Culture section shares pictures and information about the French speaking areas. This section provides very simple and basic information. If older students are using this course, you may find that additional culturally study may be needed.

Pricing and Purchasing Information
There are two options for purchasing French Essentials.
The first option is to purchase one module at a time. Individual modules are $69.95. You have 90 days to download the lessons and written exercises.
Full Access to modules 1-5 for one year is $149.95. You have a full year to download the lessons and written exercises.
You can view and listen to samples online to get a feel for the program.
Our Thoughts on French Essentials
I have had two different groups of children using this program. My 4th and 6th grade students have been working with me in module one. We have been taking it slowly and steadily. They were initially excited about learning a new language but the excitement didn't last. After several lessons, my students were not engaged. Often the audio was difficult for them to hear/understand. They didn't find the content interesting. This approach to learning a second language doesn't seem to work well for this set of children.
I also have my two oldest using French Essentials. They are 8th and 9th grade. Since they had no exposure to French, they began at Module 1. Due to their age and abilities, they used this program independently. Here are their thoughts:
Mary (8th) – I enjoyed the flashcards and you could change the settings to make them more challenging. It was nice that you could click on words and hear the pronunciations. That was helpful. The lessons were really easy.
Bekah (9th) – The lessons were easy which isn't surprising since they were for lower grades. The instructors were okay although a little boring. The videos just showed the instructors talking to the camera. I think it would have been better for them to talk to each other so you could see how they spoke to each other. There wasn't really a way to make sure you understood the language . The exercises and test make sure you can write but not speak it. I don't feel like I really learned much. I can write some but I definitely can't speak it.
One aspect that I find tedious about this course is the downloading of the lessons. I appreciate that we can download the lessons and exercises for future use. However, each lesson was downloaded individually and became a hassle.
I agree with my oldest daughter on the video portions of this course. I didn't find the videos to be engaging or interesting. I think this definitely would affect the success of younger students in using this program. While I'm not a song and dance fan, I do think this course needs to be more lively for younger students.
My final thought is to spend some time at French Essentials and look around. They provide plenty of information on how to use the program, module content and FAQ. Reading other reviews from the Crew might be helpful as well.