For the past several weeks, we have been using Math Mini-Courses provided for review from A+ Interactive Math. After teaching more than one child math over the years, I have learned a very important lesson: mastering the basics of math builds a firm foundation for higher math courses. To help a couple of my children work toward that mastery we have been utilizing two Math Mini-Courses: Early Elementary Addition and Elementary & Middle School Multiplication.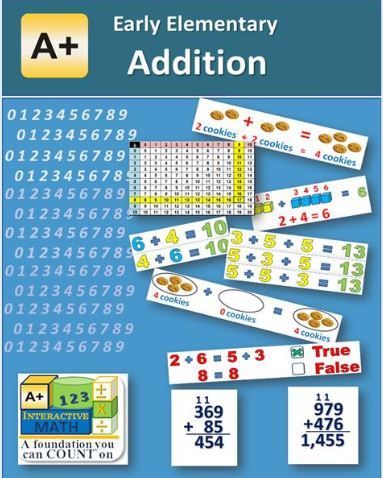 What are Math Mini-Courses?
Math Mini-Courses are exactly what the name suggests. As our children are progressing in math, we may notice weaker areas or gaps in learning and mastery. It happens at all levels of learning. Taking a break from moving forward and spending a bit of time in review and practice is often a wise and prudent choice. Math Mini-Courses were designed for this purpose. With a selection of 20 mini-courses, meeting the needs of Grades 1 – 6,  Math Mini-Course can help with the review and mastery of counting and place value to probability and statistics. Depending on the child, completion of the mini-courses could be accomplished in a couple of months, but a full year's access is given so the student can freely progress as his/her own pace.
How do the Math Mini-Courses Work?
Math Mini-Courses from A+ Interactive are very simple to use. When the child is ready to work on math, she simply clicks the "launch" button and comes to her dashboard. From here she can choose to do the next online lesson, complete an online worksheet for extra practice, or perhaps she is ready to complete an online test. There is also an option for a worksheet to be printed for the lesson. Another feature that can be helpful for some students is the option to print out a PDF of the lesson. It is a print version of the online lesson that was viewed. This can be really helpful for when the student might need a quick refresher on a specific topic or method.  I know some of my children are like me and retain information better that they have read.
How Did Math Mini-Courses Work for Us?
I had two children using the Math Mini-Courses. Sarah, 8, has been working through the Early Elementary Addition Mini-Course. This course is designed for Grades 1 -3 and presents 17 Lessons. In these 17 Lessons topics from how to use an addition table to adding three digits numbers is presented in an interactive format. After viewing the current topic, Sarah would then move on to an interactive online worksheet. Sarah is not a confident reader, so having the questions read to her was extremely beneficial. She didn't have to put her focus and energy into deciphering words but could just focus on the math task at hand.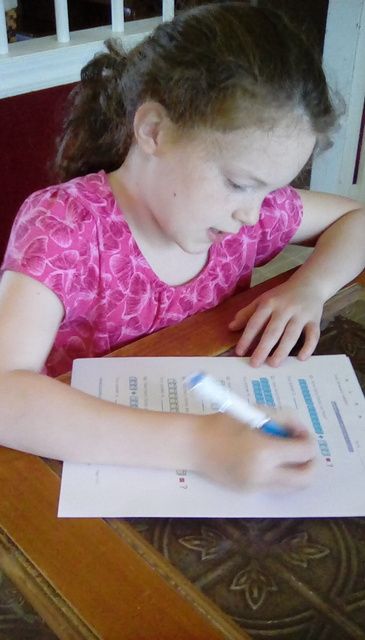 Sarah is a bit behind in math so she is moving through the program slowly. She came to the topic on Adding with Re-Grouping and hit a bit of a wall. She was definitely feeling stressed and was almost in tears when she did poorly on the interactive worksheet. We had a nice chat about working at our own pace. I had her do an online worksheet and I also printed the available worksheet as well. Thankfully, since we have a full year's access, we can take our time on re-grouping before pushing ahead. I"m not sure how it would be for other Math Mini-Courses but while we are working on re-grouping, we moved a head a bit to other topics like Find 10 More.
The second Math Mini-Course used was Elementary Middle School Multiplication for Grade 2 – 6. Hannah has been using this 13 Lesson mini-course to firm up on her multiplication skills. With this course Hannah has been reviewing the basics of multiplication and then moving on to multiplication with 3, 4, 5 digit numbers. For Hannah, this mini-course is serving as reinforcement for her current math studies. The online interactive portion of the course has been enough for Hannah and we have not used any of the printable material.
Our Final Thoughts
It is no secret that I struggle with online instruction especially for my younger students. Independent learning is wonderful but I think it definitely has a time and place. For us, the Math Mini-Courses have been a bit difficult. With the online lessons, the topic can be presented in only one way. If Sarah doesn't understand it today, tomorrow she is going to have to watch the same lesson. And still not understand. It serves as a great review but if the topic is somewhat new, the lesson wasn't really beneficial. Children learn in different ways. To use these courses to the fullest potential you really need to know how your student best learns. And know when to slow down. Sarah uses the program about three times a week but progress is slow.
Hannah, 10, started out using her Math Mini-Course on multiplication about three days a week. Then she requested that she only have to do it one day a week. She stated that she preferred her regular math book. She found the interactive video a bit annoying and preferred for me to explain the math to her. It bothered her that if she got a question wrong on the interactive worksheet, the program would tell her the right answer, and then the results showed she made a 100 when really she didn't. She is moving forward and with only 13 Lessons she will be done soon.
Overall, I think A+ Interactive's Math Mini-Courses serve a great purpose. Gaps are going to happen. Review is going to be needed at times. Having options and resources to help our students during these times is great. I can see Math Mini-Courses working well to refresh a student's mind after a school holiday or summer break. Perhaps before moving up the next grade level of math, the student needs to reacquaint herself with a few fundamentals.  Although the Math Mini-Courses were not a perfect match for my two students, we are tweaking them and making them work for us.
Other Crew Members reviewed a variety of the 20 Math Mini-Courses offered. Take a moment and see what others are saying about A+ Interactive's Math Mini-Courses.