Math can be one of the most intensive, time consuming subjects in educating your children. No matter which method of learning is used, math instruction takes place in some form. Last year, we were able to use CTC Math to supplement our math studies. We have recently incorporated CTC Math back into our studies via the 12 Month Family Plan. Six of my nine children are working with CTC Math in various ways that suit their individual needs. I would love to share features and aspects of the program that make this  an asset to our homeschool day.

CTC Math is an online math curriculum (nothing to download!). For Grades K-6, CTC Math provides a complete curriculum for the student. The higher levels of the program, while not complete curriculum, work very well as a supplement.
Pat Murray is the instructor for all the lessons. Not only is he an experienced math teacher, he is also the father of ten. Mr. Murray does an excellent job of presenting materials in each lesson in an engaging and understandable way across a wide range of learning levels.
Using CTC Math is very simple and straightforward. With a few clicks to select the area of study to focus on for the day, your child is ready to complete a lesson of math.  After viewing a short video, a worksheet needs to be completed. While the worksheets are all completed online, the higher levels of math have the option of printing the worksheets. My seven year old uses this program independently and rarely has to ask for assistance. It is really that easy to implement!
CTC Math has an excellent video on How It Works.
Even within one household there can be a variety of learning styles and needs. Taking advantage of CTC Math's Free Trial is a great way to see if this program would be a fit for your family. There is no time limit to the free trial but the content is restricted to the first lesson in each topic.
What I Love About CTC Math
* No Games Needed! Over the past few years, I have seen various online curricula that motivate the child with games and prizes. I love that CTC Math has a simple but effective method for motivating a child. As the child completes portions of the program, an achievement award is given. Since I receive an email when an achievement award is earned, I can quickly give a "way to go" shout out to my child. The smile I get in return is priceless.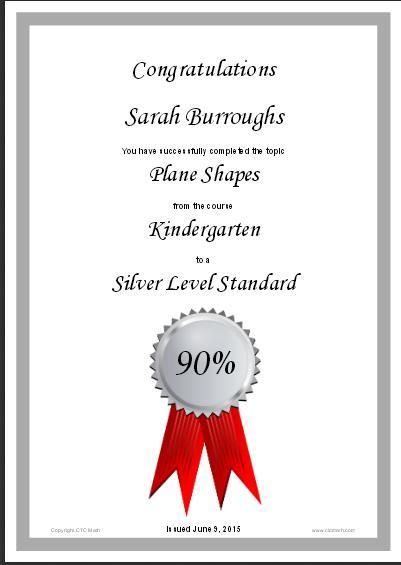 There are four levels of achievement: Platinum, Gold, Silver, and Bronze. The awards can be printed if desired.
* Simple Testing for Placement – Each area of learning has two testing options: Standard and Comprehensive. The two tests are basically the same but the Comprehensive has more questions for a more thorough test. I use these tests in two ways. First, I use this for a pre-testing. While my child is working at sixth grade level,I might be concerned that there could be a gap or two. So giving a pre-test allows us both to see weak areas that need to be worked on. Perhaps when a child moves into a new level, I feel he might have a good understanding of the material so he can test out. Who doesn't love that option?

I also use the tests for a bit of post-testing when needed. If a child has struggled over a few topics, when the area of study is completed, I would have her do a post-test. This helps us see where a gap in learning might be forming. Since math builds on skills as your progress, I don't want a small gap now to cause a bigger issue later. The tests are not overwhelming. Even my child who struggles with anything called a test, handles these beautifully.
* Color Coded Reports – Reports can be viewed by both the student and the parent. The color coded progress bars allow even the youngest student to understand how they are doing. From Blue to Red, it is easy to see where more practice is needed and when mastery has been achieved. This is a great motivator to my seven and nine year old daughters. They love to see the blue bars dominate the screen. The reports, detailed or summary, can be printed if needed for record keeping or reference.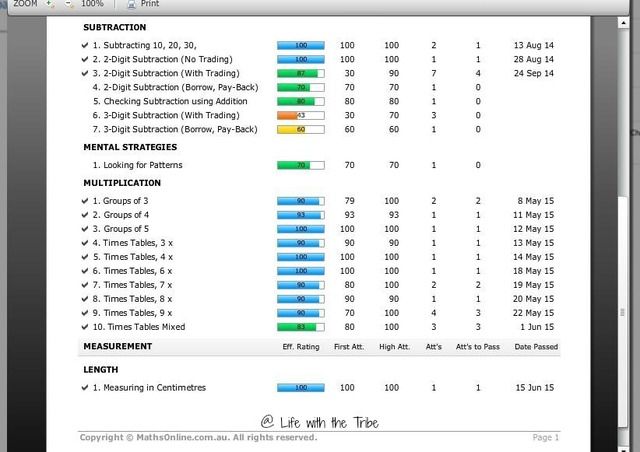 * Short Lessons – Mr. Murray does a great job of explaining the topic in a concise manner that allows for short lessons. My younger students are able to watch a lesson video and complete the questions in about fifteen – twenty minutes. My student using the higher levels of math, naturally take a bit longer. The instructional videos are around 7 – 10 minutes and the worksheet time is more intensive that the younger students.
* Stop and Save – There are days when even short lessons can be a bit trying and we need to step away from math for a bit. If the child needs to take a break while working on the questions, a "stop and save" option is available.  This has been a great feature when life has interrupted a school day.
* Speed Skills – I have seen in my older children how having quick recall of basic math facts makes higher math much easier. CTC Math has an excellent math drill program called Speed Skills. The child picks an appropriate level and completes as many problems as she can in 60 seconds. The first attempt sets the goal to bet. I love how the child is working to better her own score. Speed Skills also have a level that includes Order of Operations.  You can play it as a guest! Give it a try!
* Great Customer Service –  CTC Math has amazing customer service. I have had a few questions and the support at CTC has always been super helpful and quick! This is great when your high school student has a question about why her course isn't working properly and the mom brain is fried. We have smooth sailing thanks to CTC's customer service.
* A Real Family Plan! – It is not uncommon for homeschool families to have more children than the average. CTC Math's 12 Month Family Plan allows up to TEN students to have access. I love not having to select which child needs this resource the most.I can have all of my children working independently on math and at whatever level is needed.
"CTC Math is fine. I really enjoy doing the speed drills. I like how the teacher explains things and that the lessons are short. He can make you understand something without going on and on and on. When you get something wrong, it shows you a solution. I like being able to see where I made a mistake." Lydia – 11
Final Thoughts
CTC Math has been an asset to our family. Several of my older children are using CTC Math to supplement their math studies. Even as a supplement, they are using CTC Math in different ways that best suit how they learn. My oldest is using the Algebra course to review weak areas. My other older ones use CTC Math a few times a week to reinforce what they are learning.
"I liked it. It had fun things to do." Sarah – age 7
Two of my younger ones are using CTC Math as their sole math curriculum. They love working independently and it is rare I have to remind them to do their math. My seven year old really enjoys the Speed Skills. While they do use the program independently, I am still needed a times.
"I'm learning things. He explains things really well and goes over stuff. I like it." Hannah- age 9
Since the topic or skill presented in a lesson can only be presented in one way, there is sometimes difficulty in comprehension and success with a topic. For example, my seven year old is struggling with number words, counting by 2s, and addition up to 20.  I can very easily see the lessons she is having difficulty with thanks to the report feature. At the end of each week, I look to see where she might have a challenge and then the next week, we take a day or two to tackle some problem areas. I might create a game, present the topic in a different way, or watch the lesson with her and discuss it with her.  It is working out beautifully and they are learning. Who can argue with that? We give CTC Math the Tribe Seal of Approval!
As always other Crew Members reviewed CTC Math so take a moment to stop by and see what others are saying.