Last year our family was introduced to The Brinkman Adventures and thoroughly enjoyed Season 2. When I learned that The Brinkman Adventures Season 3 was available for review, I knew that my children would be thrilled. Who doesn't love a good audio drama?

The Brinkman Adventures is a radio drama that shares stories about the Brinkmans, a large fun-loving family. Along with the adventures of the family, true stories of modern day missionaries and Christian heroes are shared as well. The dramatization of these stories is very well done. You will find yourself laughing at the antics of the Brinkman children and then on the edge of your seat as ordinary people are being used in extraordinary ways by the Lord.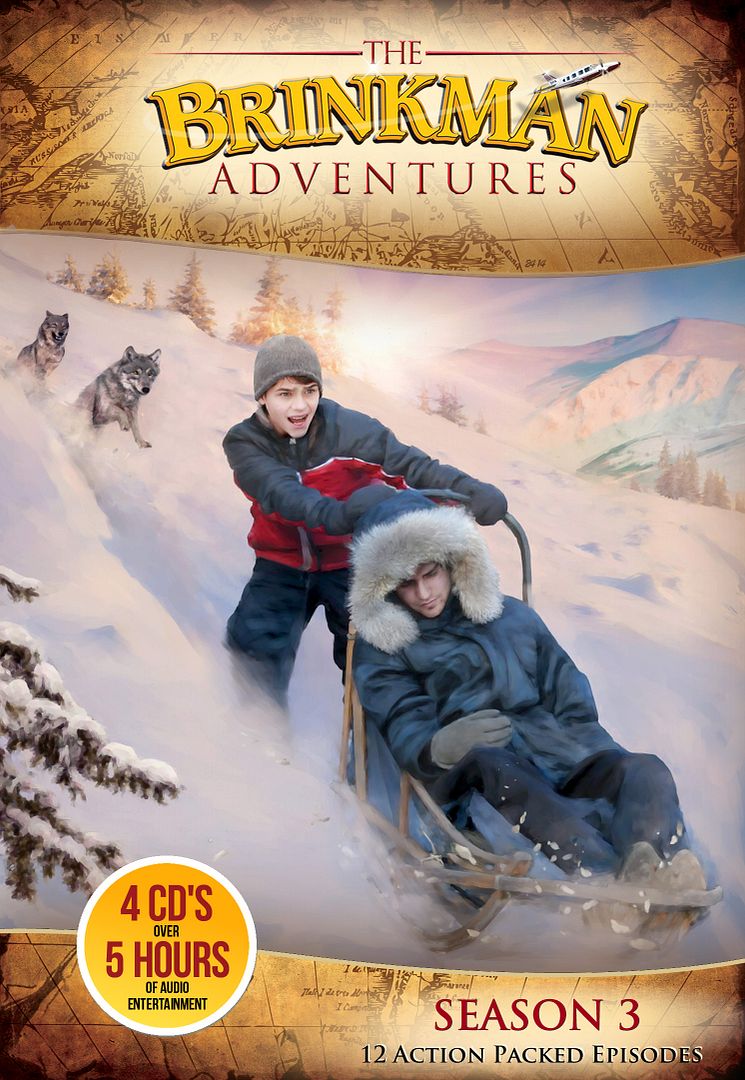 There are twelve episodes (Episodes 25 – 36) included in The Brinkman Adventures: Season 3.  Season 3 takes us on exciting new adventures: Bible smuggling, "killer" bees, Taliban jail, and more.
When Brinkman Adventures: Season Three arrived, I do not believe I even held it in my hands for more than a minute. My children were eager to pop the CD in and begin listening. Within the first few days, my oldest daughter had listened to the complete season. It appears that the Brinkman Adventures is perfect for when you have a few knitting projects to wrap up.
"It's nice. I really like when they go into different places, different countries. I like hearing the different languages. The way people sound different." Sarah – 7
In the afternoons or evenings, my children all grabbed activities, found comfy spots in the living room, and listened to Season 3 for an hour or two. It is a beautiful sight for this mom! Drawing, knitting, clay work, and Legos are all in action while my children are learning amazing stories about people serving the Lord faithfully.
"It's fun to listen to. I liked Season 2 better but this one was good. My favorite was the story about the pocket monkey that gets out on the plane. It was funny. " Hannah – 9
Sharing the love of Christ and God's word is so important. Helping our children to see how anyone can serve faithfully no matter the circumstances, seeing how God provides in amazing ways, and how needed the Gospel is around the world is foundational to the future. The Brinkman Adventures is a great tool for this purpose. After listening to the episodes, you can visit Real Stories at The Brinkman Adventures website to learn more about the inspiration for the stories shared.
"I really like it. It is a normal family that has every day problems. The missionary stories are really interesting. Steve Saint played himself and I think that is neat to get real people to tell their story." Lydia – 12
The Brinkman Adventures is perfect entertainment for the whole family. Road trip coming up? Grab a season or two for the road! These radio dramas would also be great for a family gift this holiday season. You could easily incorporate these into your "morning/circle time" or Bible study. The episodes are about 30 minutes so easy to listen to an episode and have some discussion. If your church has a missions program for children, the Brinkman Adventures could be another valuable resource to have on hand.
"I enjoyed Brinkman Adventures because I love hearing missionary stories. Their faith is encouraging and thought provoking. I like listening to the Brinkman's because they are a lot like us; nine kids and happily chaotic. My favorite this season was a Saint's Story." Rebekah – 16
You can also listen to an episode of The Brinkman Adventures online. Currently,  Episode 9: The Provider is available. The three season are available in CD and MP3 format.