Alone Yet Not Alone is based on true events in the life of Barbara Leininger.  This book tells the story of a German immigrant family in the 1700s America and how their lives forever change with an attack from Indians. We then journey with Barbara as she faces this new life of captivity with unwavering faith that the Lord will sustain her and carry her through. She recalls her father's words reminding her that the Lord would not leave or forsake them, she remembers sitting by him as he read the Bible and she recalls her mother singing "Alone Yet Not Alone" to her and her sister, Regina.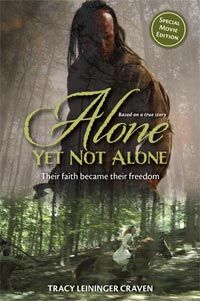 After years in captivity, Barbara escapes with fellow captives and returns home. Barbara's sister Regina was also taken captive. They were separated and lived in two different tribes. Eventually the remaining captives were set free and Regina finds her way home.
I must confess upfront that I broke a very important rule: I saw the movie and have not read the book. My daughters (Mary, Bekah, and Lydia) have all read the book. When we heard that a movie based on the book was being released, I felt pretty confident we would eventually purchase the DVD when available. However, we were able to enjoy a special showing in the theater.
Mary, who loves this book, found that HIS Radio/WRTP, a local Christian radio station, was giving away tickets online. I took a few moments to enter and then forgot about it. Last week we checked the mail and discovered that we had won four movie tickets to see Alone Yet Not Alone. Exciting? Oh, yes! My three girls and I headed out to see the movie with hopes that it would hold true to the book.
What did we think of Alone Yet Not Alone?
This movie has a PG13 rating and while the violence is not graphic, there are times where it can be intense. When the tribes break into the homes, fights between English soldiers and the tribes and the portrayal of a woman being burned. (They show nothing graphic here but it is implied). Lydia, who went with us, is only 10 and had no issues with the movie. (She has seen movies such as Lord of the Rings and it in no way compares.). I would let my seven year old watch it but only if she was familiar with the book beforehand.
**A momma's note: Since this movie is rated PG13, I let my girls know that the previews would probably be for other PG13 movies and to be prepared for distasteful, inappropriate images. I encouraged them to just look away. During the previews I kept my ten year old engaged in conversation.
This movie was very well done. Based on my conversations with my daughters, the movie lines up well with the book. There are places, such as a meeting between the English officers and Tribal Chiefs, that were not included in the book but helped to develop the story line of the movie.  It has a character named Lydia who is not in the book but represents some things that happened in the book; like a mother whose baby is taken from her.
I appreciate how one side in this war was not made to be the "bad guy".  Throughout the movie, we see faults on both sides but we also see compassion and kindness. It was a war that brought much suffering and loss on both sides and that is clearly shown throughout the film.
While life in captivity for Barbara was easier on her than others (like her friend, Maria), Barbara's heart and faith are always with God and her family. When she is faced with having to marry Galasko (the Tribal Chief's son) , she realizes that she must join her friends in trying to escape all while understanding the consequence if they are captured again.
I came into this movie prepared for it to fall short of my expectations. However, I was pleasantly surprised. This movie is well done. The scenery, the acting, the story…all were engaging and well played. Since I had not read the book, I found it suspenseful at times. More than once, I teared up at the emotion displayed. We will definitely be purchasing Alone Yet Not Alone when it is available so our whole family can enjoy.
If you have the opportunity to view a selected showing, go see it! It will be released nationwide February 21, 2014. Plenty of time to read the book first!
If you want to dig a bit deeper with Alone Yet Not Alone, a  free downloadable study guide available. This would work well if you are studying the colonial period in history or as a family if you want to discuss the themes of the movie.
**This blog post contains my opinion on Alone Yet Not Alone. I am simply sharing my thoughts and opinions on a movie I viewed.This is not an official review and I have received nothing in exchange for this post.