*This post contains a product review. Disclaimer at end of post.*
From sewing to card making, creations are always in the works in our home. One of my favorite past times is sewing. No matter how frequently the seam ripper is in my hands, I find sewing to be relaxing and enjoyable. My daughter, Mary (13), shares that love of sewing. Over the past several weeks, Mary has been enjoying Learn How to Make Doll Clothes Online Video Sewing Course from Rosie's Doll Clothes Patterns. Here is our take on the course…..
Who is Rosie?
Rosie is a stay-at-home mom who has been sewing since she was a young girl. As a mother, she began sewing doll clothes for her daughter. After a bit of frustration, she found tips and tricks that made sewing the clothes simple. Now Rosie shares the tricks of the trade with you via her online video course.
Tell Me More about Rosie's Doll Clothes Sewing Course
Rosie's Doll Clothes Sewing Course (intended for ages 8 and up) is over 130 online videos that walk you through everything you need to know to become a successful seamstress of adorable doll clothes. Rosie begins with the very basics of Setting Up Your Work Space, Cool Tools, Fabrics and more. As you progress through the videos, you will learn about Advanced Hems, Attaching Trims, Sewing Buttons and more.
The videos are not overwhelming in length and information. For example the topic of How to Use Your Sewing Tools, it  is broken down into thirteen videos. With each video about 5 – 10 minutes in length, it is perfect for digesting information and being able to apply it later. It also allows for ease in referring back to various aspects that you may need a reminder or refreshment on.
While the videos do share a plethora of information, Rosie does an excellent job of teaching and instructing you through various sewing techniques and patterns. She is engaging, understandable and (a favorite of my daughter's) she has a lovely accent. You or your child would have no problem learning and excelling with this video series.
To make Rosie's Doll Clothes Online Sewing Class even easier to implement, you receive 8 American Girl/18″ doll patterns free to jump right into sewing. The patterns include: crop top, shorts, nightgown and more. In no time you will have a fun, adorable wardrobe for all the dolls in your home!
Purchasing/Pricing Information for Learn How to Make Doll Clothes Online Video Sewing Course
Purchasing the Online Video Sewing Course gives you access to over 130 online videos for one year. With this purchase you also receive the eight free patterns. The one year online access allows you to learn at your own pace and viewing videos as often as needed. Due to exchange rates, the US pricing can vary. The current US pricing is $47.46 but may fluctuate a few dollars in either direction. Purchasing is quick and easy at Rosie's Doll Clothes Patterns. 
Our Thoughts on Learn How to Make Doll Clothes
My daughter, Mary, was the main user of this course. Mary came to this course with sewing experience and knowledge. She has not had any formal instruction but has learned mainly by "jumping in there and sewing". I have answered questions for her as they come up. Doll clothing was an area she was eager to learn about so was thrilled to give this program a try.
Since Mary is older (13) and had previous experience, I let her use this course independently. Mary worked at a steady pace and had no problems understanding and implementing what she learned on the videos. Very quickly she was able to whip up doll clothes that were very simple to construct and could very easily be fancied up.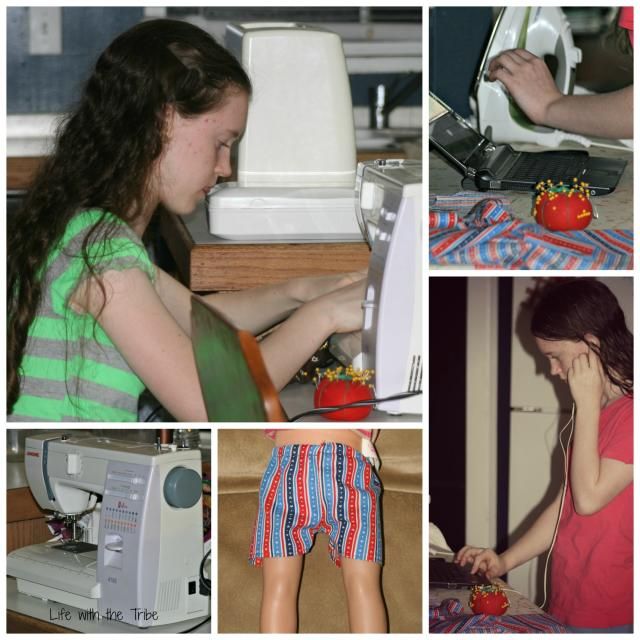 Since Mary used the course independently, I asked her to share a bit:
"The videos were very easy to understand. She went over all the various tools and showed how to use them at least twice. If you were just learning to sew, by the end of the course you would have the skills to sew anything you wanted. I don't think this course would be for all ages; it would be good for ages 10 and up. I really enjoyed watching the videos and learned some new things. I learned the cabbage leaf hem, proper way to gather and how to attach motifs and other trimmings. "
I will definitely be using this course with two of my other daughters; Lydia, 10 and Hannah, soon to be 8.  We will have a joint class with them and take it at a much slower pace than Mary used.
Even though this course is designed to teach you to sew doll clothing, the skills learned through this course can easily be transferred to child or adult clothing. It would be the perfect gift or homeschool elective for your child who wants to learn to sew!
Take a moment and head over to Rosie's Doll Clothes Patterns and look around. You can also swing by the Crew and see what others are saying about Learn How to Sew Doll Clothes Online Sewing Course.