Flying cats? Rainy days? Tribe of Kids? Yes, this could totally be an afternoon at our house. No, I'm not kidding. However, as exciting as our days might be this is a peek into our stack of picture books that we have enjoyed lately. I have many books to share but thought I'd highlight a few favorites before they head back to the library.
Caramba – Marie-Louise Gay – As soon as I began reading this one, my children were asking if this was the same author/illustrator that wrote Stella and Sam. We might have a few Stella and Sam fans here. Caramba is just your typical furry, fluffy cat that looks fabulous in suspenders. Caramba just has one problem. He can't do what all the other cats can do. Fly. Poor Caramba. He tries and tries to fly like all the other cats but from landing on his face in the grass to crashing into Grandpa's lap, flying isn't working out well for Caramba. Cousins step in to help Caramba learn to fly. Unfortunately the lesson doesn't go quite as planned. It all ends with a huge splash.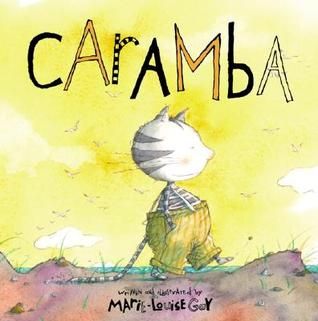 Perhaps Caramba was written to celebrate differences and to encourage us to embrace our individuality. Or not? We just enjoyed a fun story about flying cats, trying hard when things are a bit difficult, and the value of a good friend. And, sadly, our cats here don't fly either.
Puddle – Hyewon Yum – There is nothing like a rainy day to make us a little grumpy at times, right? Rain can make a day seem so dull and dreary. Then the boredom sets in  and nothing indoors will do. Until mom brings out a bit of paper and crayons. A mom and her young son end up having great fun taking turns drawing pictures of what they would do in the rain. After creating such a delightful picture, even including jumping in puddles, what else could they do but go out in the rain? A picture comes to life!
Such a simple, quick read but so enjoyable. An excellent read for a rainy day especially if you an go outside after reading. It would also work well to encourage a bit of art. Children could take turns drawing what they would do at the park, in the backyard, or in the snow. Then make their creations come to life!
There is a Tribe of Kids – Lane Smith – Every week or two, I go through the New Books listings on my library's home page. Most of the time I have particular books I am looking for but sometimes I'm just browsing for a book or two that catches my eye. This is how I stumbled across There is a Tribe of Kids. For several years, we have called our family by the title of Tribe. How could I resist this title?!?  It turned out to be a favorite book that we have read and looked at over and over again.
Simple text presents various groupings of animals to a young boy: bed of clams, parade of elephants, formation of rocks, and of course a tribe of kids. The beauty of this book is not only in its simplicity of text but the lovely illustrations; charming and sometimes funny when you notice the details. This is perhaps what has drawn my children to this book again and again. My almost two year old loves to flip through the pages and it inspired my ten year old to create a few sketches of her own. She loved the style of the tribe of kids. A beautiful read that appeals to a variety of ages.  It shouldn't have been surprising that this book has become a favorite. We are fans of Lane Smith's Grandpa Green. A beautiful, sweet story that shares about aging and memories.