*This blog post contains a product review*

Recently I began searching for a resource that would help one of my children gain a better grasp of spelling and also incorporate a phonics review.  After researching several options, I was beginning to become slightly frustrated and was planning to pull together various items to create what I wanted. Then the Essentials program from Logic of English became available for review. Designed for ages five to adult and utilizing multi-sensory activities, I was intrigued with the possibilities. The past several weeks have been spent learning how logical English is with two of my children: Lydia (10) and Hannah (7). I'd love to tell you all about it because it has become a favorite resource in our home.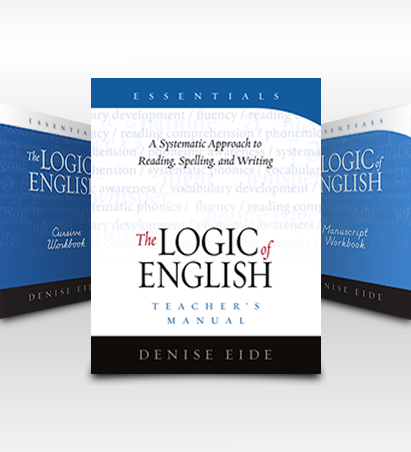 Logic of English Essentials utilizes several different components to create a complete, engaging and intensive course that covers spelling, grammar, phonetics and vocabulary development. Written in a way that communicates simply but effectively, it can easily be used from emergent readers to an older student or adult who needs review or remediation.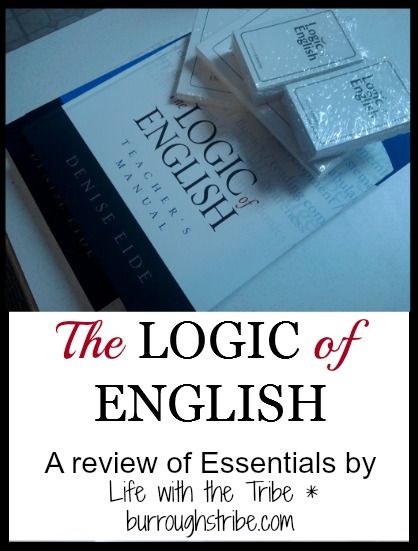 For this review, we received a Logic of English Essentials bundle consisting of the following:  Essentials Teachers Manual (hardbound), Student Manuscript Workbook (softbound; cursive edition available), Phonogram & Spelling Game Book, Phonogram Flashcards, Spelling Rule Flashcards and two decks of Phonogram Game Cards (one manuscript/one cursive).
How do these components work together in Logic of English Essentials?
Essentials Teachers Manual begins with a scope and sequence, keys & symbols and materials/supplements list. Then there is an extensive introduction section that gives suggested schedules for the various needs of students. How you would pace this program for an emergent reader is a bit different in the pacing of a older student who is struggling with spelling. As you begin the lessons, you will soon see where adjustments might be needed and Essentials offers much flexibility.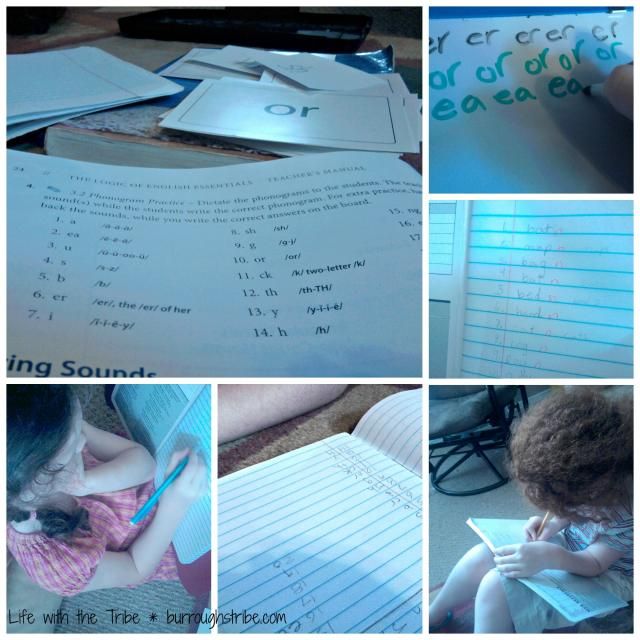 Others topics in the introductions include: phonemic awareness, the three main parts of the lesson and teacher resources (list of spelling and grammar rules for quick reference). And then the lessons begin!
The lessons are quite simple in their structure and you will get a feel for the flow very quickly. Each lesson begins with a list of materials needed. Phonograms are the first part of the lesson and you review or introduce phonograms utilizing the Phonogram Flashcards. A game is often recommended to help reinforce the phonograms. Spelling is then introduce through some discovery activities and your student will learn a new spelling rule. Part two is a spelling list. However, referring back to activities from the introduction section, your student does more than just spell a list of words. They are learning how to break down words and recognize the phonograms and match them with the spelling rules so that English becomes logical. For example, after completing the spelling list, you student will go back to the word duck. They will underline the "ck" that makes the /k/ sound. Why? Because "ck" represents the /k/ sound in words with a short vowel sound. Part Three of the lesson is grammar. Grammar rules are learned and parts of speech. Using the spelling list, students takes those words and apply the grammar rules to them. Simple dictation and composition activities are used in the grammar portion. The lessons also are scripted so you don't have to worry about how to explain the rules and teaching points. The script provided is clear, concise and complete.
Phonogram Flashcards–  This packet includes flashcards for the 74 basic phonograms and are used in each lesson of Essentials. Well made, sturdy 4 x 6 cards. The phonogram is given on the front with sounds and examples listed on the back.
Logic of English Essentials Workbook – This softbound book provides a convenient location for your student's written work. It can be purchased in manuscript or cursive. Black and white presentation with no distracting graphics. It is a very basic "fill in the blank" type of workbook that compliments the activities in the teacher's manual.
Phonogram & Spelling Game Book provides over 70 games to reinforce what is being learned each day. Games like Dragon, Speed and Snatch the Match require Phonogram Game Cards. Other games such as Eraser Race and Blind Spelling need a dry erase board and markers along with the spelling list. For your hands on and visual learners, this resource is so helpful.
Phonogram Game Cards come in cursive,  manuscript or bookface. At least two decks would be beneficial as several of the games require at least two decks. They are sturdy, thick, laminated cards that will hold up to much play.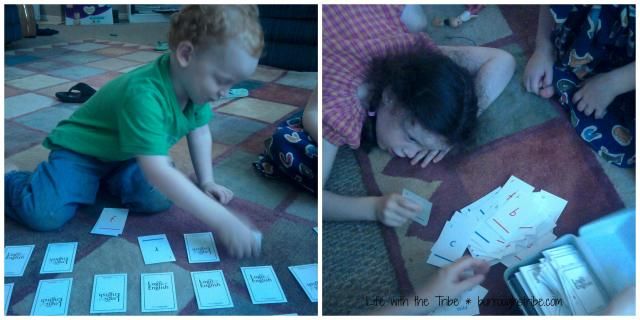 Spelling Rule Flashcards are 4 x 6 cards that list the spelling rule and examples of the rule –  perfect for drill practice or a visual aid during the lesson. Spelling rule cards have a green top border as a visual clue that relates it to spelling.
How did Logic of English Essentials work in our home?
I was initially looking for a program for my 10 year old daughter who was actually a decent reader. However, new or big words caused her to hesitate and stumble while reading. She also was a terrible speller. Once I looked over the program, I decided to incorporate my 7 year old daughter as well so she could be exposed to the rules of grammar and spelling.. During the morning, I pull the two of them together and we do a portion of the lesson. We have fallen into a natural rhythm of completing a lesson in three to four days.
After the first day or two, my ten year old decided she didn't want to use the workbook. Both girls are using composition books and dry erase boards for their lessons. We generally don't use workbooks and I think it just felt odd to Lydia. For activities that require them to underline or correct portions, I write them on our large dry erase board or they copy them into their notebooks and then make corrections. It has been working fine.
Even though we are only a few weeks into this program, I can already see a confidence building in my struggling reader. She is seeing connections between the words and the rules. Drilling and reviewing of the phonograms has been a great refresher since the time period of her learning to read was a stressful one in our home.
One of our favorite parts of Essentials has been learning that vowels sing and consonants do not. We shared many giggles on that day. The girls are also enjoying the phonogram and spelling games. Snatch and Dragon are favorites. Here is the neat thing; even my younger non-readers love to join in for a round of memory. My five year old and fourteen year old have joined in for a game of Snatch. It is just too fun not to and they are learning without even knowing it.
As we progress further into Essentials, I have no doubt that I will be using this with my five year old when she is ready. I also regret not having my older students use it as a source of review. If not the whole lessons, the spelling portions would be beneficial to all.
When I tell my girls it is time for school, they ask to do Logic of English.. If our schedule gets thrown off and we miss a day, they are a bit bummed. Grammar and spelling are not drudgery. The enjoy Logic of English. It isn't just the few games we have played but it is the complete package. What they are reading is finally making sense and they enjoy understanding. Even I have learned a few things as well!
I also appreciate how Logic of English incorporates multi-sensory learning without crossing the line into over-stimulation or annoyance. I have never been a fan of companies that turn learning into a game show. My girls being able to see, write and hear all aspects of the language has been a benefit but it all comes without the "busy distractions".
The Logic of English has a wealth of information online from videos to free downloads. Very helpful!
Pricing and Purchasing Information:
Logic of English Essentials Teacher's Manual –

$95.00

Logic of English Student Workbook (Manuscript) –

$25.00

Phonogram Flashcards –

$18.00

Spelling Rule Flashcards –

$15.00

Phonogram & Spelling Game Book –

$15.00

Phonogram Game Cards –

$10.00
There is a complete package bundle option available as well.
How to make Logic of English cost effective?
Can we really put a price on helping our children learn to communicate and understand? Theoretically, no. However, for many homeschool families Logic of English pricing may seem high. The teacher's manual is non-consumable so you can use it again and again with multiple children. If you have budget restrictions, flashcards and game cards could easily be made at home. While the workbook is nice to have, the program can be used without it. If you have a child who is struggling in reading or spelling, I recommend taking a look at Logic of English Essentials. I have been greatly impressed with this program.
This video does a excellent job of showing the importance of a systematic approach to English:

Logic of English also has a Foundations course that teaches reading and has a penmanship course called Rhythm of Handwriting. Crew members reviewed Essentials and these other program as well. Take a moment and read more reviews.