It doesn't take long to realize that to help your day run smoothly, engaging your little ones in a fun learning experience helps them be content while you tackle Algebra. A few moments of prep, construction paper and a bit of glue are all that is needed to make a fun and cute learning activity for your preschoolers.
Sarah and Sam (5 & 3) had been enjoying a study on polar bears, penguins and ice.  I decided to take the cold theme in a slight different direction and we enjoyed a book about a snowman. It seemed very appropriate as we had a small dusting of snow and ice that day. After sharing the book together we made snowmen indoors as a couple of little ones were not feeling well.
Normally, I believe in handing the paper and scissors to my preschoolers and letting them build their fine motor skills through cutting their own crafts.  For this activity, however, I was working on others skills such as following directions and prepped the activity by cutting out all the shapes/pieces. There were 3 circles of varying sizes for the snowman, scarf, hat, arms, noses, circles for buttons and "snowflakes". I also included some snow covered ground.  Black construction paper provided the perfect backdrop.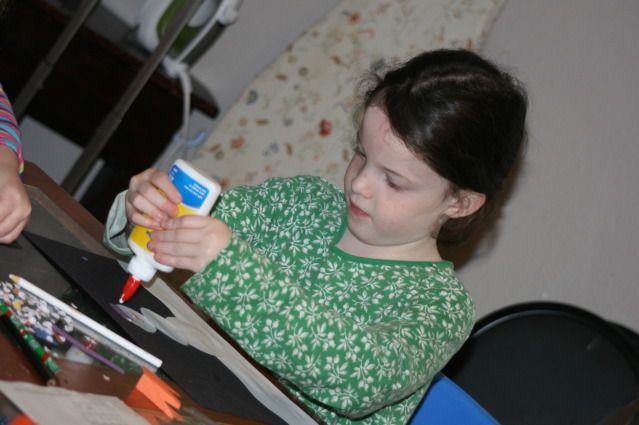 First, I had them put the circles in order; biggest on the bottom and the smallest on the top. They ordered the circles by size perfectly! Then I gave directions on what items to add next.  We gave the snowman his arms, then a hat; a cute nose followed and Sam did an excellent job adding a smirky smile and two little eyes to his snowman. Great job working on proper placement of facial features.
Listening skills and following directions are so important to develop.  When you can work on those skills with a little paper and glue, why not? My young learners enjoyed it and they even worked on a bit of self control; patiently waiting for me to tell them what to add next.
Fine motor skills were not left out of the activity even though I did the pre-cutting. Sam had a challenging moment dealing with the glue stick and the snowman's arms.  Sarah is enjoying using liquid glue and is learning that "a little dot will do it". It takes a lot of hand strength to squeeze out that glue!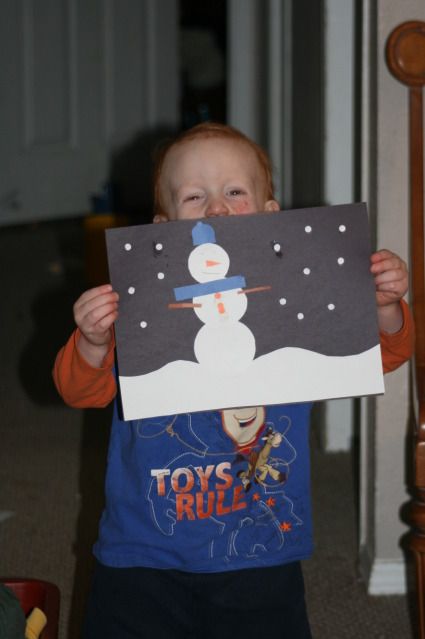 Skillful Snowmen. A fun, simple activity that works on a variety of skills and is enjoyable; I call that success! With just a bit of thought, you can change up this activity for whatever topic you may be sharing with your preschoolers.  Create a room in a house or a backyard scene. Maybe a trip to the beach or a birthday cake. Pre-cut a few pieces of construction paper, grab the glue and give simple instructions. Perfect!
Our snowman were the hit of the day. Sarah and Sam couldn't wait to show their daddy and I think my older ones were a bit envious.  I must give thanks to Hannah, 7, who was a lovely assistant.
If you do a similar activity, be sure to come and let us know!