It has been quite some time since I have been at my sewing machine.  I have a list of items that need to be sewn, a small stack of fabric waiting to be cut and a few girls who would like a new dress or two. Time seems to fly by and by the end of the day, my sewing machine just collects a bit more dust. This past Friday, I decided that I really needed time at the machine. Despite the mistakes I make and the love/hate relationship I have with the seam ripper, sewing relaxes me.
Martha had a small growth spurt and her dresses have become a bit short. Also, since she is the smallest, sewing for her is quicker. We love peasant dresses here. Simple and cute but very easy to dress up a bit. The peasant dress is also a quick project. Just an hour or two and a dress is done!
What makes the simple peasant dress even better? Recycling fabric!   For Martha's peasant dress and matching bloomers, I used an old flat sheet and an old jumper dress that had a few holes and stained spots.
Peasant dresses are very easy and one can quickly do a bit of math and have their own pattern. I'm lazy when it comes to math so if I can find a pattern that does the work for me, I use it!
Sew Much Ado has a great peasant dress pattern for Infants 0-3 months. Very simple project and you can easily adjust the sizing for an older infant. I took this pattern and made it just a bit bigger for when Martha was around 6 months.
For Martha's new dress, I used the 12/18 month peasant dress pattern from Scattered Thoughts from a Crafty Mom.  She also has a pattern available for 2T/3T and 4/7.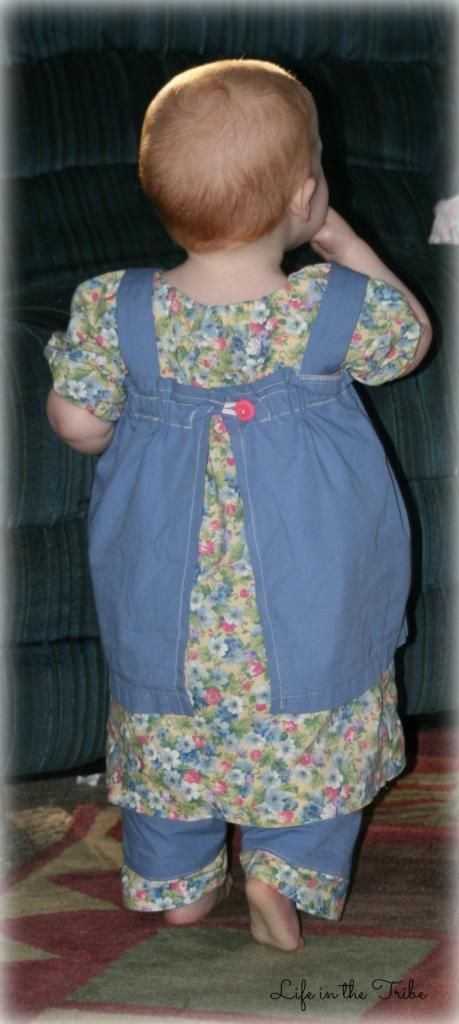 The pinafore is a very quick way to dress up the peasant dress. I did this for two girls at Easter 2012 and they received many compliments. So easy! You can learn how to whip up a Pretty Little Pinafore at Sew Mama Sew. Lots of great tutorials there.
My model was not in the mood for a photo shoot. Martha and the dress had spent 6+ hours in the van and posing was not on her to do list. Excuse the wrinkles!
Sew on!