Quiet time.
You know it well, right, moms? The morning has been busy, lunch has been served and the books have been read. Now we have quiet time.  Maybe your children are all in separate rooms or you keep the little ones close by.  Some music playing in the background or an book on CD creating some white noise?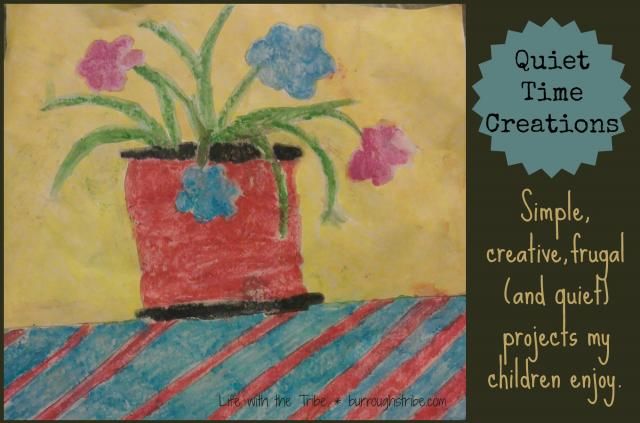 Funny thing happens.
After fourteen years of Quiet Time, the majority of my children no longer nap. How do I maintain a bit of quiet with eight children in a limited space? Simple. I set a rule: At quiet time you can read, write or draw. All those activities are quiet. While I do allow children knitting or playing alone with Legos, the basic concept is understood. Engage your mind quietly.
So they create.
Frugal art supplies are a must. The basics are all you really  need: paper, scissors, glue, coloring pencils/crayons and a bit of imagination. I am happy to let them grab the supplies whenever they need them. On special days, I even pull out the glitter.
As quiet time begins, they pop in book on CD to listen to, grab the art supplies and the fun begins.
Newest Supplies.
While picking up a few things for Lydia's birthday, Watercolor Coloring Pencils caught my eye. No doubt that Lydia, the artist, would enjoy these pencils.  This item is now in high demand. The watercolor coloring pencils help create some lovely pictures. Lydia's are quickly being used up. I should have grabbed two packs!
Do have Quiet Time Creations?
How are imaginations working in your home? Please share!