We are finally getting back into our read aloud groove. No matter what else is going on, reading aloud and having that time each day to settle in and enjoy a good read keeps up steady and on course. The past few weeks we have definitely enjoyed some good reads!
A Few of our Picture Book Selections:
At the library, I found Who's on First. This books brings the classic comedy skit to life for younger ones. As I read this one, everyone was laughing and enjoying this witty play on words. This piece is truly timeless!  To add to the fun, I found a video of Abbott and Costello performing the Who's on First skit. Oh, the laughter! After hearing the skit preformed by this comedy duo, I frequently found two readers playing parts while reading the skit. My non-readers were always close at hand.
Gossie is a favorite of my two-year old. I grab it from the library ever so often. Who can resist a cute, little gosling that likes red boots? I can't! I love Gossie. Simple text with bright, clear pictures tell the story of Gossie and her missing red boots. Gossie is sized perfectly for little hands.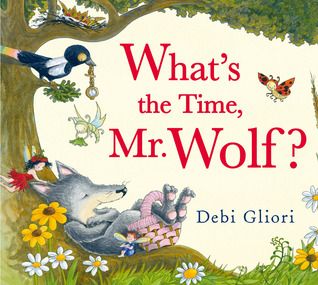 What's the Time, Mr. Wolf? turned out to be more enjoyable that I expected. It was a last minute grab from the library shelf. Mr. Wolf has a very busy day! His day starts at seven o'clock, mail arrives at nine, and on the day goes. Then there is a surprise party at six o'clock for Mr. Wolf. And all his friends are there. My children had a great time naming them: Three Little Pigs, Red Riding Hood, the Dish and the Spoon… While this was just a fun read for us, you could definitely use it while teaching time, fairy tales or nursery rhymes.
Our History Read Aloud:
I read various books to different children for their studies, but try to select one to read together with everyone. Summer of the Monkeys by Wilson Rawls is currently underway. I shared a few excerpts in Wednesday with Words yesterday. Summer of the Monkeys tells the story of Jay Berry who is determined to capture a group of lost circus monkeys. Capturing these monkeys is a bit more challenging than Jay Berry expected. Jay Berry doesn't lack for determination. Add in a bit of creative thinking and help from his grandpa, and we can't wait to see if Jay Berry succeeds.
While Summer of the Monkeys is hilarious, it also is sweet and poignant. The relationships really stand out as you read. You have the family relationships like Jay Berry and his grandpa.I love reading their conversations and how Jay Berry looks up to and respects his grandpa. He is always confident that grandpa is going to have the answer.  You also have the relationship between a boy and his dog. No matter how much times change, there is still nothing sweeter than a boy and his dog.
Our family bedtime read aloud is The Hero's Guide to Storming the Castle. This is the second of The League of Princes series by Christopher Healy. The family enjoys these tales of the Princes Charming and how their heroic deeds never seem to get the recognition they deserve. We are only a few chapters into this book and the kiddos are hooked. The humor tends to be a bit on the sarcastic side which suits my family well but might not be for everyone.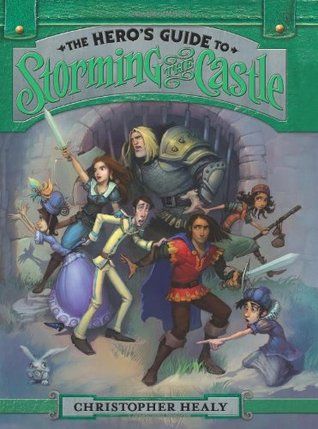 Is it the greatest piece of literature every written? A classic? Hmm, I don't know about that. I do know that it is a fun family read that puts a nice twist to your happily ever after fairy tales. As we read, the kiddos are anticipated which Prince Charming will be on the scene and what happens next. Trust me, you will not read fairy tales the same way again!
A new stack of books came home from the library today….and the reading continues!
What have you been reading aloud?