I know, with no doubts, that children having time outdoors is an essential. The backyard, neighborhood woods, and a good climbing tree become the stage of many adventures. My children not only fight great battles and build miniature fairy villages but they enjoy the warmth of the sunshine after a cold spell and the beauty of a cool breeze. Being outside gives them a picture of the majesty of the Creator even before they realize it.
Once upon a time, I was outdoors with them. I suppose this might be the downside of having older children. My presence is not needed outside just because my children are outside. Or is it?
I have been slowly (and I do stress slowly) reading through Home Education, Volume One of a series written by Charlotte Mason. Since I have transitioned all of my children to Ambleside Online, I felt it might be wise to read the original works of Miss Mason. When I couldn't decide which volume to begin with, I simply defaulted to Volume 1.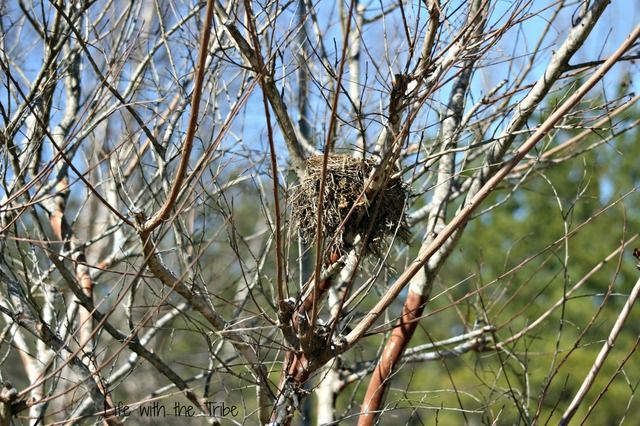 In this text, Miss Mason writes a good bit on children and their need of being outdoors. I heartily agreed. Then I realized an key factor I had been missing. Perhaps ignoring if I wanted to be honest.
One of the key studies of Miss Mason is Nature Study. Over the years I have dabbled in using Mason's educational philosophy but I must confess that Nature Study never made the weekly schedule. My children were playing outside. They were enjoying the fresh air and sunshine. That was enough. Or maybe not.
At the same time, here is the mother's opportunity to train the seeing eye, the hearing ear, and to drop seeds of truth into the open soul of the child, which shall germinate, blossom, and bear fruit, without further help or knowledge of hers.
Miss Mason discusses the child intentionally seeing nature. Observing when the flowers begin to bloom and when the buds form on the trees. When do the birds and bugs begin to appear in the yard again? What is happening in the pond at the park? And so many more questions should be formed and answered while we are outside.
As I thought over these things, I knew that I wanted to purpose to make Nature Study a regular and consistent part of our week. I wanted to join my children in spending focused time really seeing what was in nature. I did some more reading and research. I quickly became overwhelmed at how to implement the practice. Blogs, Pinterest boards, and books offered up many ideas. Lovely bags and  a variety of quality sketch pads, journals, watercolors, pencils were key. And the sketching! Gorgeous sketches. I must admit that I second guessed myself. Could I make this work?
By degrees the children will learn discriminatingly every feature of the landscapes with which they are familiar; and think what a delightful possession for old age and middle life is a series of pictures imaged, feature by feature, in the sunny glow of the child's mind!
We are a one-income large family. The homeschool budget is small and would not allow for "frivolous" purchases. I could not purchase hardback journals or high quality watercolors. I felt inadequate. I can barely draw a passable stick figure. And I need to sketch a tree or a flower or a bird?
In the end, I decided to make it work. Flexibility has been a constant in our homeschool journey. We could take that flexibility and make it work for Nature Study as well. I knew that making Nature Study a priority should be a big part of our week. Why? I want my children to see creation and to understand and know the Creator. He is an amazing and awesome Creator. And so we will make it work.
More to come on how I'm making Nature Study work for us….