Perhaps one of the biggest challenges I face is planning and organizing the education of nine children. At the moment I have seven children working at various levels. Planning is key to the days running smoothly! What planning method or resource should I use? For the past several weeks, I have been utilizing HomeSchool Office from Lord Heritage. HomeSchool Office was a new resource I had not heard of before. Would it solve all my planning challenges?
HomeSchool Office is a web-based program that is designed to bring together all aspects of your children's education into one centralized location. Since it is a web-based program, you do not have to be concerned with downloading anything or losing information.  HomeSchool Office is available through an annual subscription. This annual subscription has no limit for the number of children and includes support whenever needed.
HomeSchool Office Basics
The concept of HomeSchool Office is very simple. Creating your Team is the first step. Not only do you enter your students but also those who teach them. You, piano teacher, co-op teacher, or a tennis coach can all be included

Once you have your Team established, HomeSchool Office works on the concept of P.O.W.E.R.
Plan
Order
Work
Evaluate
Report
Plan – In Plan you take each student and create subjects, master schedules, plan projects, and can even do some budgeting.
Order – Now you take the information from Plan and put it into action. Here is where the lesson plans all come together. You can work in a full month calendar format or shift to a daily/weekly format. This step also had a customizable To Do List feature. Chores, anyone?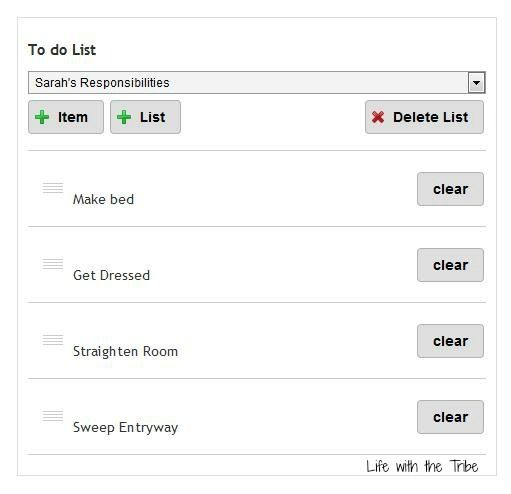 Work – Work will look identical to the Order step above but it has a key difference. Work can be shared with your students in two ways. They can access via a student account or you can print it.
Evaluate – This is simply where grades and attendance are tracked. You can also track by subject hours.
Report – This feature is really helpful for those who live in states that require certain forms of reporting about the school year. You can select from a variety of options to put together a report that contains just the information you need. If you have high school students, it can also aid in compiling a transcript.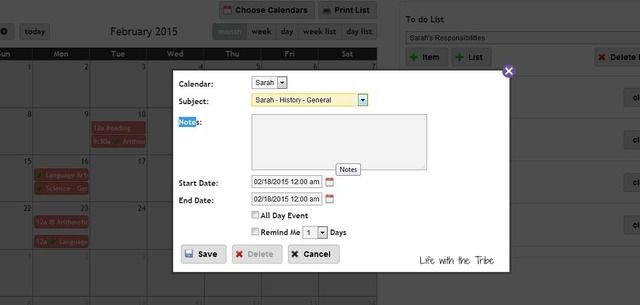 How did HomeSchool Office Work for Me?
A few weeks before receiving HomeSchool Office, I had implemented another system for my oldest students that was working well. I decided to utilize HomeSchool Office for my other students that were in a "planning limbo". If it went well, I would later transition my oldest ones over. The set up of HomeSchool Office can be quite time consuming so I made a wise decision.
I really liked the concept of this product. The step by step process helps you to think through the year ahead and plan well. Creating a master schedule gives you a colorful visual of what your child is doing and how much time it is taking. Adding in something as simple as the To Do List feature is really helpful. It works well for a child who may need to be reminded of morning responsibilities or a check off sheet for the steps of writing. Having the planning all in one place would also be helpful if someone needed to step in and take over teaching for a bit due to sickness or other emergency.
As much as I wanted to love HomeSchool Office, I struggled. Our homeschool method/philosophy is heavy on living books. The only subject that is clearly directed by lessons is math. Most of our "subjects" are time based. The majority of our school day is reading and discussing. I found it hard to plan and schedule that all out. We are not rigid in our day but have more of a flow. HomeSchool Office was more detailed than I needed.
HomeSchool Office also has the school year preset and the subjects preset. The school year was a traditional 9 month school year (2014- 2015) and we do not follow this break down of the school year. The subjects had no option to customize. While I appreciated the variety of subject options, I found that I needed some subjects that were not there. I do have the option of editing the subjects at the Report. I can download Reports into Word and make changes there. While that is helpful for those who need to report, it doesn't help me. I want my children to see accurate subject headings. I think it benefits my younger students especially to see the subjects as we use them in our home.
I think that HomeSchool Office would be a great resource for many homeschool families. For me, HomeSchool Office does not offer the flexibility that I need in planning and organizing our homeschool. If you use a traditional approach or a more structured approach, it would likely work really well. I think with older students it offers independence and the transcript portion of the reports is likely a sanity saver. After seeing HomeSchool Office in action, my older students have chosen to stay with the planning method we already have in action.
HomeSchool Office does offer a free 30 Day Trial so you can test it out and see how it works. For a product like this, I think actually using it is so helpful in getting a feel for if it will be beneficial. Of course, you can also read how others made it work for them!