The View from Saturday has always caught my eye from the library shelf but always walked on by. A few weeks ago, on impulse, I grabbed it and added it to my pile of books. One evening I needed a bit of relaxing reading so I thought to read a chapter or two before bed.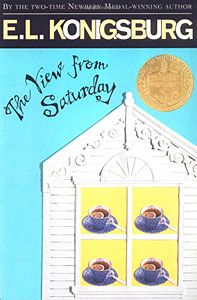 "When I told Tillie that six steps seemed a lot to have to do before you begin, she said, "You must think of those six steps not as preparation for the beginning but as the beginning itself."
And I love this book! Why did I wait so long to read it?
"Mrs. Olinski gave up. Everyone believed that she could be wounded by the word cripple. She could never explain to Dr. Rohmer, nor would she try to, that the word itself does not hurt, but the manner of its delivery can. For all of his training, Dr. Rohmer would never believe that cripples themselves are a diverse group, and some make jokes. "
Four children from various backgrounds all connected by a common thread form the academic quiz bowl team for their sixth grade teacher, Mrs. Olinski. The story is told from the perspective of each of the four students and Mrs. Olinski as well. Each person's story reveals much about them and the other as well. I was absolutely charmed by Noah, Nadia, Ethan, and Julian. This surprise team sweeps through the quiz bowl shocking everyone with their performance.
"Think about the question that Maxwell missed. They did not know that Humpty Dumpty was not in Wonderland because they never journeyed through the looking glass to find him. How can you know of something's existence before you can notice its absence. So it was with The Souls. They found on their journeys what you found at Sillington House."
It is a story of friendship, giving, compassion, loyalty, and truth. We meet four children who are developing strong character and realizing who they are. It is a mystery to Mrs. Olinski as to why she brought these four student together but there is no doubt it was meant to be.