A couple of years ago, I read aloud The Wednesday Wars by Gary Schmidt and it instantly was heralded as a family favorite. It is has been re-read quite a few times by various children in the house. I try to keep up with our favorite authors so that we don't miss any new reads. Somehow I was completely unaware that Mr. Schmidt had a new book, Orbiting Jupiter. (Huge thanks to Sherry at Semicolon!) I quickly added it to my library requests and was surprised to have it in hand just a few days later.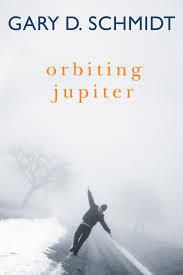 The story is told from the perspective of Jack Hurd (12). Jack lives with his parents on a dairy farm in Maine. His parents are considering fostering a teenage boy (14), Joseph, and they include Jack in on making the final decision.
While Jack has loving parents and a safe, secure home, Joseph's life doesn't paint as lovely a picture. Juvenile detention, attacking a teacher, and being a father are all parts of Joseph's story. Yes, Joseph is a thirteen year old father of a little girl named Jupiter.
Two boys who could not have been more different form an unexpected relationship that proves to be a strong and faithful bond. Despite how others see and treat Joseph, Jack is a loyal and dedicated friend.  A brother who has Joseph's back.
This book is a surprisingly quick read. It deals with very real, difficult, and  challenging topics. Orbiting Jupiter is heartbreaking and beautiful and real.  Gary Schmidt handles  this so well by allowing the story to be told through the eyes of Jack, who is younger than Joseph.  This is a powerful book that really makes you think.  We are so quick, so very quick to judge. We should all be like Jack. Looking past that outward appearance and seeing the heart.
I highly recommend Orbiting Jupiter. My seventeen year old has already read it and my other teens will be reading it as well. I am debating if I will let my twelve year old read it now or wait a bit.  I would suggest reading it first for yourself and then deciding if it is right for your middle school child. Again no detailed or graphic content; just a very heavy, mature topic.
Have you read Orbiting Jupiter? What did you think?