Most of my personal reading is unplanned and driven by my mood. Over the last several years my reading tastes and preferences have expanded and grown for which I am thankful. Naturally a great deal of my reading time is spent with selections from the Children's and Young Adult areas. What I have found surprising is that I am constantly reading books that share about people and events during World War II. It is most definitely unplanned yet I find myself captured by these stories.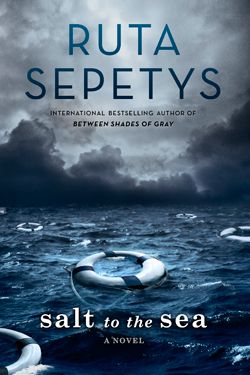 During a recent library visit, Salt to the Sea by Ruta Sepetys caught my eye.  Between Shades of Gray by this same author had been on my to read list but I had to return it before I reached it in my pile. I grabbed Salt to the Sea and determined that I would bump it to the top of my stack.
With Salt to the Sea, we journey with four young people to one of the greatest maritime tragedies but a tragedy that is not known by most. Four refugees, all carrying heavy, heartbreaking secrets and burdens, are all traveling to gain passage on the Wilhelm Gustloff. At one time the Wilhelm has been a luxury ship but now it would serve as the means of safety and hope for thousands..
Florian, Joana, Emilia, and Alfred. Four young people who will capture your interest and some your heart. Each person is telling their story; the book switching from character to character. This not only allows you to see the character from their own perspective, but also gain the insight of how they are viewed by those around them. It allows for great depth in the characters. The secrets and the burdens they are carrying are slowly peeled back layer by layer. This can be quite gut wrenching for the reader. So quickly I came to love some of these characters.
Salt to the Sea is set during a tragic, horrific time in our history. So much pain, death, suffering, loss. As you read the stories of these four young people, there will be pain, sadness, despair, and loss. But there is also beautiful hope. Clearly you see forgiveness, strength, determination, friendship, sacrifice, and love. This time period seems to highlight man's evilness and depravity. However, it is countered with such love and goodness.
Salt to the Sea reminded me much of my reading experience with All the Light We Cannot See and Code Name: Verity. Powerful, powerful stories that reveal so much about us as people and our capabilities of hate and love. And in the end…hope. Always hope.
I quickly passed this along to my 17 and 15 year old daughters. I will wait a bit before allowing my twelve year old to read it. I do highly recommend this for mature teens and adults. I'd love to hear your thoughts if you have read Salt to the Sea!