Up until the summer of 2015, my children and I were living under a rock and oblivious to the author, N. D. Wilson. The rock was rolled aside when I brought home Boys of Blur and read it aloud. We all enjoyed it and "Read a book, yo!" is still a favorite family slogan.
It has been a year since we spent time with Charlie and Cotton. We jumped right into The 100 Cupboards series and had quite the adventure with Henry York. It is continually brought home from the library to be enjoyed again and again. A little Crazy Berry Juice was called for after a reading of Leepike Ridge. We just recently finished the three books in the Ashtown Burials series.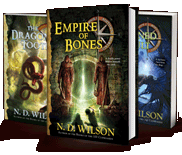 Cyrus, Antigone, Nolan, Rupert, Niffy…they have become treasured friends. Reading the Ashtown Burials was a time of "read, read, and read because we have to know how this book ends" and "I don't want this to end!"  While targeted at the 8 to 12 year old readers, this series is perfect for a family read aloud.
Ashtown Burials gives the perfect blend of excitement, adventure, history, family, and friendship. All of this brought together by a wonderful cast of characters that will soon be like old friends. Conversations about the Smiths happens regularly around our table.  There have been discussions on good vs evil,  immortality and death and what living truly means. We have laughed over the antics of Cyrus and love his relationship with Rupert.
Not to ruin this series for those who have not read it, but the ending of Empire of Bones (Book 3) was bittersweet for me. It was what I expected for one character but it still was tough one to take. It led to some of the above mentioned discussions.
Don't ask my children to choose between Ashtown Burials or The 100 Cupboards. Some will groan in distress and other will refuse to answer such an unfair question. It gets even better if you ask them to choose between characters: Cyrus or Henry? Rupert or Uncle Frank? It is great fun as a parent to have this small moments of torture.
Across the board, Mr. Wilson has become a treasured author in our home. Wilson's writing "makes you feel like you are right there watching everything happen".  One of my teens has declared Wilson one of the best authors ever. We might be some of his biggest fans.
If you happen to live under a rock like us and haven't read the Ashtown Burials, we highly recommend it. Hopefully it won't be long before Book IV: The Silent Bells will be published.