Dinner around the table is never a boring affair for The Tribe. One never knows what the topic of the day might be or where it will lead. However, there is sure to be laughter and some learning mixed in as well.
A few days ago, the topic of going to the ocean came up. One of our children said that she would like to go to the ocean so that she could learn how to swim. I pointed out that the ocean might not be the best place for her to learn with issues such as undercurrents.
And so the science lesson began…
My husband and I both grew up near the coast. While I didn't really care for the water, Eddie spent many hours surfing. He loves the ocean. As we were talking about the ocean, Eddie went and grabbed the dry erase markers. I knew a lesson was on the way!
The kiddos and Eddie had a great discussion about tides, undercurrent, buoyance, etc. Next thing you know we are talking about the Dead Sea and needing a pool in the backyard.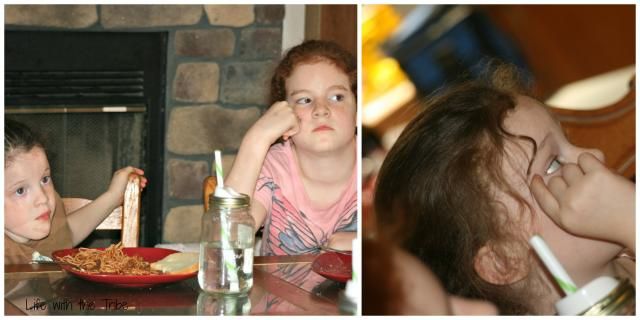 Spaghetti and science….just another day around the dinner table. What do you talk about around the dinner table?