One washcloth at a time….little hands doing big work. The great thing about two-year-old children is that they love to join you in whatever you are doing. Whether it is cleaning the bathroom or eating chocolate, Martha (our resident two-year-old)  is ready and willing to help. What a gal!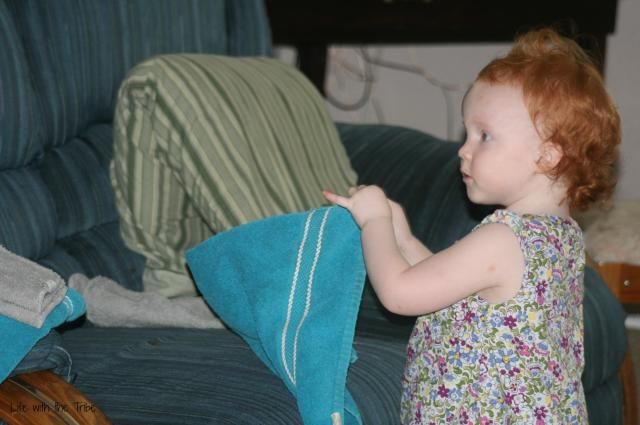 While I'd love to have another toilet scrubber, Martha isn't quite ready to take command of that job. However, I'm a firm believer in letting children tackle a task. When the laundry basket hits the couch and it is full of towels and washcloths, Martha is there. Bam! She knows exactly what she is doing when she grabs the washcloths and hand towels.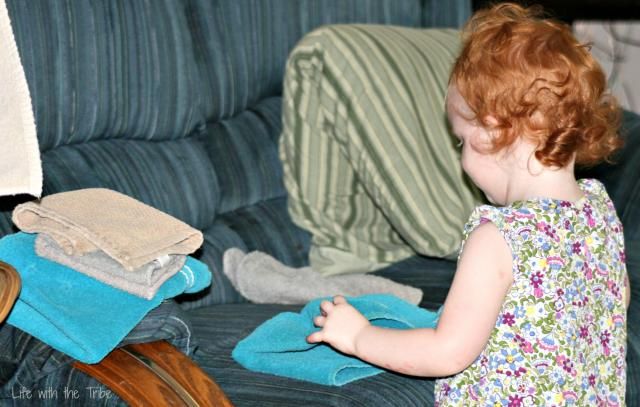 For Martha, she sees it as fun. Big sister Bekah is folding towels and Martha gets to help. Woo hoo! Martha is a big kid!
Martha is really learning diligence and building her work ethic. She takes this job of folding washcloths seriously. Does she stop after a washcloth or two? When Bekah finishes the big towels first does Martha get upset? She just keeps working on her pile until she is done.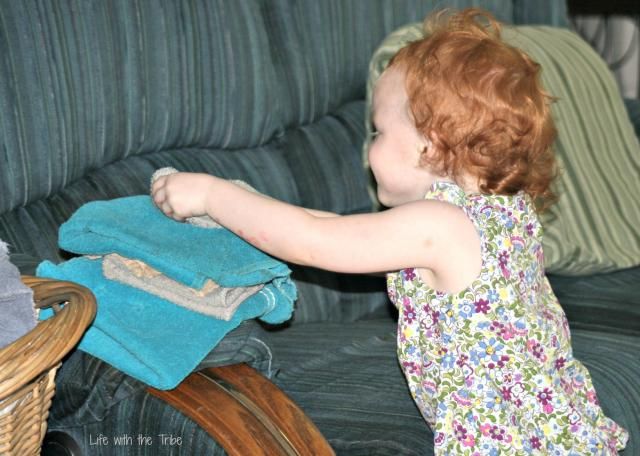 One day she will have a bigger job than putting away the silverware or folding washcloths. She will face bigger things than Mt. Laundry. Thankfully, at two, she is already working on diligence and hard work.
Not to mention she is doing a great job as Big Sister…
Little hands doing little jobs…how are your little ones learning diligence? What jobs do they enjoy tackling around the house?