A month or so ago, I grabbed a book that looked like a read that my twelve year old daughter would enjoy. Little did I know that we would be making new literary friends. I decided to read Three Times Lucky before I passed it along. And I so enjoyed those late night readings. The author, Sheila Turnage, is a native of eastern North Carolina and so am I.  That makes almost kindred spirits, right?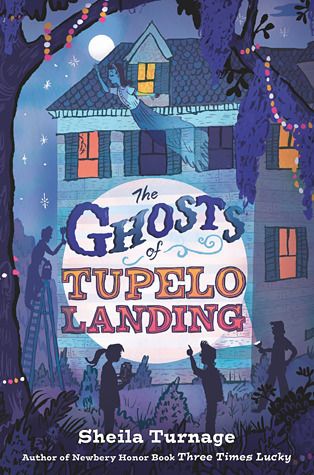 And that is where we meet Mo and Dale; in the small town, Tupelo Landing, in eastern North Carolina. Moses LeBeau, better known as Mo (and she's a girl), was found as a baby floating down a river after a hurricane by the Colonel. The Colonel, who suffers from amnesia, and Miss Lana have raised Mo together and also run the local small town cafe. Dale Earnhardt Johnson III is Mo's best friend and they are quite the duo. When a murder occurs in Tupelo Landing, Mo and Dale decide to solve this mysterious event. And this give us the Deperado Detective Agency.
"We got peanut butter and jelly, peanut butter and raisins, and a delicate peanut butter/peanut butter combination. These come crunchy or smooth, on Wonder Bread, hand-squished flat on the plate or not, as you prefer. The special today is our famous peanut butter and banana sandwich. It comes on Wonder Bread, cut diagonal on the plate, with crust or without. What can I start you with?"
Three Times Lucky is just the first offering of Mo and Dale we have from Mrs. Turnage. She has given us two more books: The Ghosts of Tupelo Landing and The Odds of Getting Even. All three are charming, witty, hilarious, and delightful. Not only do these books offer up mysteries and humor, but also meaningful relationships with family and friends. It shows that family and home goes beyond bloodlines but is truly found in the heart. You see a community of people that have their quirks and issues but they love and care for one another.
"The truth is like Spandex…It may not look like a good fit at first, but if you ease into it and wiggle around, it winds up fitting your skin."
My four oldest children (12-16) and I thoroughly enjoyed these stories. As one book was finished we passed it to the next in line. There may  have been a few threats if someone gave away parts of the story. Quite literally one day my daughter finished The Ghosts of Tupelo Landing as I finished The Odds of Getting Even. As I closed the book, she grabbed it from my hand and jumped right back into reading.
"That's how we lose people…detail by detail, day by day, until they're pale, pale memories."
My children are well read enjoying the likes of Dickens, Austin, Christie, Wodehouse. They can be a bit critical of literature and have no qualms about sharing those thoughts. A good story is one that can be enjoyed across the ages. Mo and Dale certainly offer up a good story. My only regret is that I did not read this aloud.
If you haven't enjoyed Three Times Lucky and the other Mo and Dale books from Sheila Turnage, what are you waiting for? These are great for readers ages 10 and up.  I'd love to hear your thoughts when you give Mo and Dale a  try!
In the words of my daughter: I need some comic relief in my life. When will there be another Mo and Dale book?
Please tell me there is another Mo and Dale on the way, Sheila Turnage.